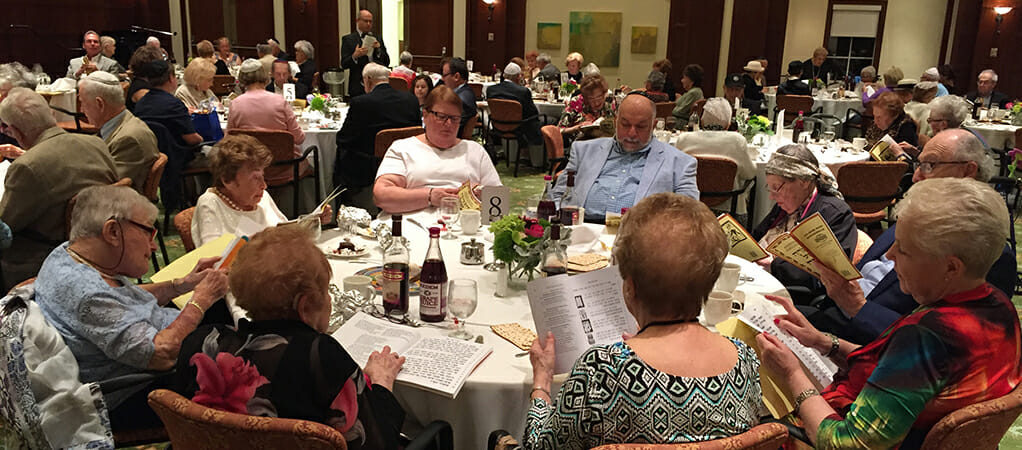 At nightfall on March 30th, MorseLife residents and their families gathered to celebrate Passover. This special observance commemorates the deliverance of the Jewish people from slavery in Egypt. As one of the most important holidays in the Jewish religion, we invite our residents and their families to join us in a Passover Seder each year.
Approximately 200 residents and their family members from The Tradition at MorseLife and 144 residents and their families from The Stephen and Petra Levin Tower at MorseLife gathered in their respective auditorium or dining room. The evening began with a service for Sabbath.
After the service, the traditional, festive Passover Seder began with the responsive reading of the Haggadah led by Rabbi Alan Sherman. The Haggadah is a written guide to the Passover Seder and includes various prayers, blessings, rituals, fables and songs. Our residents also enjoyed traditional Passover recipes including charoset, matzo ball soup, and brisket, crafted by our Culinary Director, Jonathan Landau and our Le Cordon Bleu-trained Executive Chef, Begoña Lluch.
The Passover Seder was an important moment for our residents and invited family members to reflect on their Jewish heritage and share their own family traditions with other members of the MorseLife community.
To discover how you can take part in the celebrations and activities happening at MorseLife, call us at (561) 701-8386.