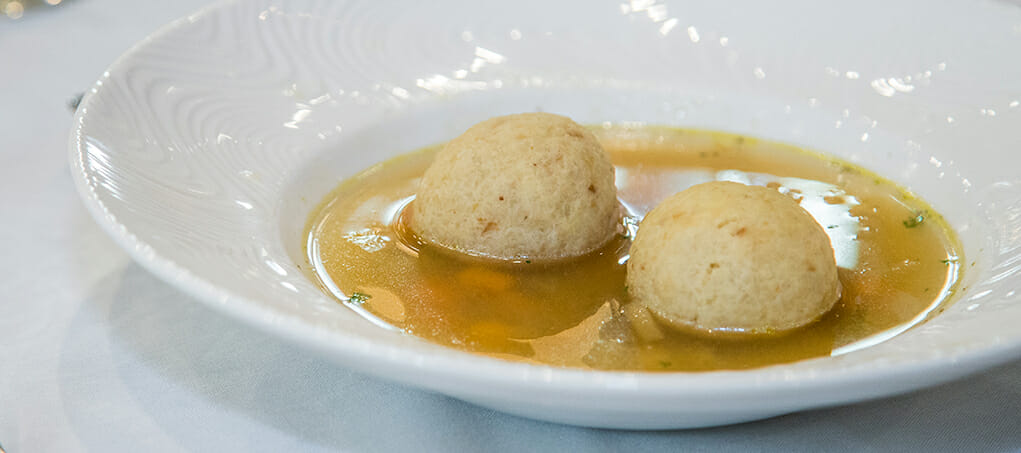 On the nightfall of March 30th, Jewish families celebrate Passover, one of the most important holidays of the Jewish religion. This special event celebrates the deliverance of the Jewish people from slavery in Egypt and has evolved over the years to be an important moment for family and friends to gather and reflect on their Jewish heritage.
While every family has its respective traditions and rituals, matzo ball soup can be found on almost every table during Passover, including those of our residents here at The Tradition at MorseLife. In celebration of Passover, we are excited to share a recipe from our very own Culinary Director, Jonathan Landau.
Matzo Ball Soup
Serves 6
Soup Ingredients:
1 whole organic chicken
2 large onions, whole, peeled
4 parsnips
2 stalks celery
6 carrots
6 tablespoons chopped fresh parsley
6 tablespoons snipped dill, divided
1 teaspoon salt
¼ teaspoon coarse ground black pepper
Instructions:
Place the chicken and enough water to cover by two inches (about four quarts) in a large pot and bring the water to a boil. Skim off the froth as it rises to the top.
Add the onions, parsnips, celery, carrots, parsley, four tablespoons of dill, and the salt and pepper. Half cover and let simmer for one to two hours, adjusting the seasoning to taste.
Refrigerate for two to three hours or overnight, so the liquid solidifies. When the fat rises to the top, skim it off and set apart for the matzo balls.
Matzo Ball Ingredients:
4 large eggs
4 tablespoons schmaltz (rendered chicken fat) or vegetable oil
4 tablespoons chicken stock
1 cup matzo meal
¼ teaspoon ground nutmeg
½ teaspoon ground ginger
2 tablespoons finely chopped parsley, dill or cilantro
1 teaspoon salt
¼ teaspoon coarse ground pepper
Instructions:
Using a spoon, gently mix the eggs, schmaltz, stock, matzo meal, nutmeg, ginger and parsley, dill or cilantro in a large bowl. Season with salt and two to three grinds of pepper. Cover and refrigerate until chilled, at least an hour or overnight.
To shape and cook the matzo balls, bring a wide, deep pot of lightly salted water to a boil. Use your hands to take some of the mix and mold into the size and shape of a golf ball. Gently drop it into the boiling water, repeating until all the mix is used.
Cover the pan, reducing heat to a lively simmer. Cook for about 20 minutes for al dente matzo balls, or closer to 45 minutes for lighter matzo balls. To taste their readiness, remove one with a slotted spoon and cut in half. The matzo ball should be the same color and texture throughout.
Strain the soup. Set aside the chicken for chicken salad and discard the vegetables. Just before serving, reheat the soup. Spoon a matzo ball into each bowl, pour the soup over, and sprinkle with the remaining snipped dill.
If you wish to experience our matzo ball soup or one of our other culinary creations, you can set up a tour of The Tradition at MorseLife by calling (561) 701-8367.