INDEPENDENT LIVING AT MORSELIFE
Experience our first-class services at the Tower

INDEPENDENT LIVING AT MORSELIFE
Experience our first-class services at the Tower
Independent Living Floor Plans
Each of our distinguished apartment homes of The Stephen and Petra Levin Tower delivers exceptional independent living floor plans. The residences emphasize custom designs tailored to reflect the Palm Beach lifestyle. Our elegantly detailed floor plans offer spacious bedrooms, living rooms, elevated ceilings, contemporary appliances and countertops, large windows and private balconies. Explore our exquisite floor plan collection featuring the Sardinia, Positano, Sorrento, Portofino, and Capri. We have designed every detail to deliver a functional and comfortable independent living floor plan for your enjoyment.
2 Bedroom Apartments
2/2: 1550 Sq. Ft.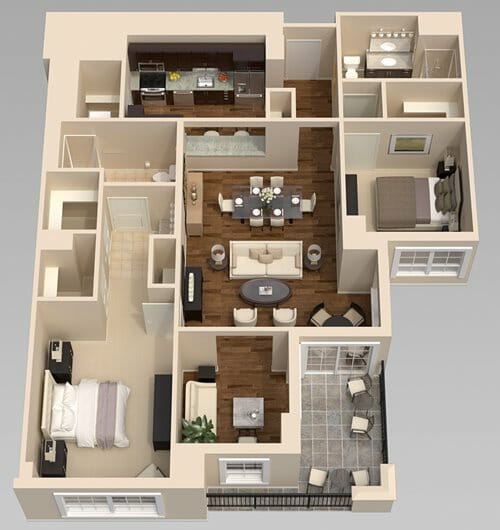 The Capri apartment home is a stellar feature in our signature floor plans. With 1,550 square feet of living space, the Capri is the perfect complement to exceptional independent living. Your lifestyle of luxury won't miss a beat transitioning to this meticulously designed residence. The Capri features two spacious bedrooms, two private full bathrooms, expansive living and dining rooms, and an exclusive den adjoining the serene private balcony. Discover all of the elevated luxuries of retirement living with the Capri.
2/2 with Den or Dining: 1220-1290 Sq. Ft.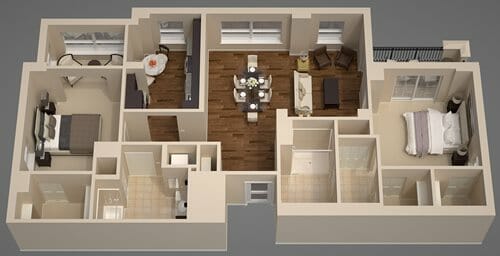 The Portofino apartment home leads the way to our signature floor plans. The Portofino delivers expansive space and exclusive privacy with a master bath directly adjoined to the master bedroom. The spacious living room and dining room have been united to create the perfect space for entertaining guests. The second bedroom features an elegant sitting area and closet. Select your preference from our customized options of a large dining room to suit your lifestyle or a private den to enjoy with your guests. Embrace the comforts of luxury with the Portofino.
2/2: 1050-1100 Sq. Ft.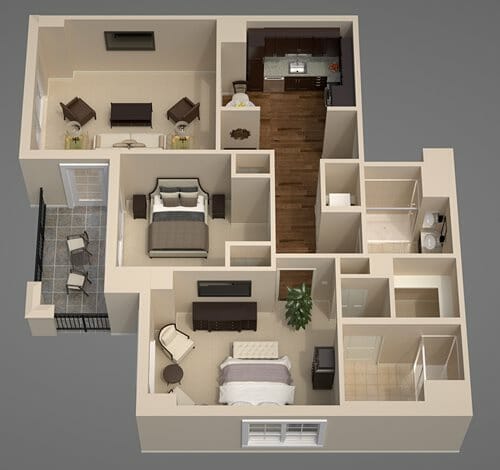 The Sorrento apartment home is a splendid expansion of our classic floor plans, completed with a spacious second bedroom and modern full bath. Take in the opulence of the master suite with two large windows and elegant finishes throughout. The contemporary kitchen of the Sorrento adjoins the large living room area, providing easy access to your private, serene balcony. Discover all the Sorrento has to offer for your exclusive independent living experience.
1 Bedroom Apartments
1/1.5: 900-930 Sq. Ft.
The Positano apartment home stays true to our classic design while offering additional space for visiting friends and family. The modern den and half bath near the entry, provide an elegant yet contemporary place for entertaining guests. The Positano is fitted with luxe finishes and lavishly comfortable settings to deliver a truly exceptional senior living experience.
1/1: 760-780 Sq. Ft.
The Sardinia apartment home is our classic design finished with all of the elegantly modern touches you'll come to love at The Levin Tower. We've designed the Sardinia residence with a spacious bedroom just a few steps away from the living room, for your comfort and convenience. The Sardinia's fashionable kitchen features contemporary granite countertops, backsplashes and stainless steel appliances. Escape to your private balcony and take in the beautiful lush gardens and magnificent fountains of the MorseLife campus.

AMENITIES

AMENITIES
Stephen & Petra Levin Tower Testimonials
Come Take a Tour
Like What You See?
Sign up for a Tour and come see what we're all about