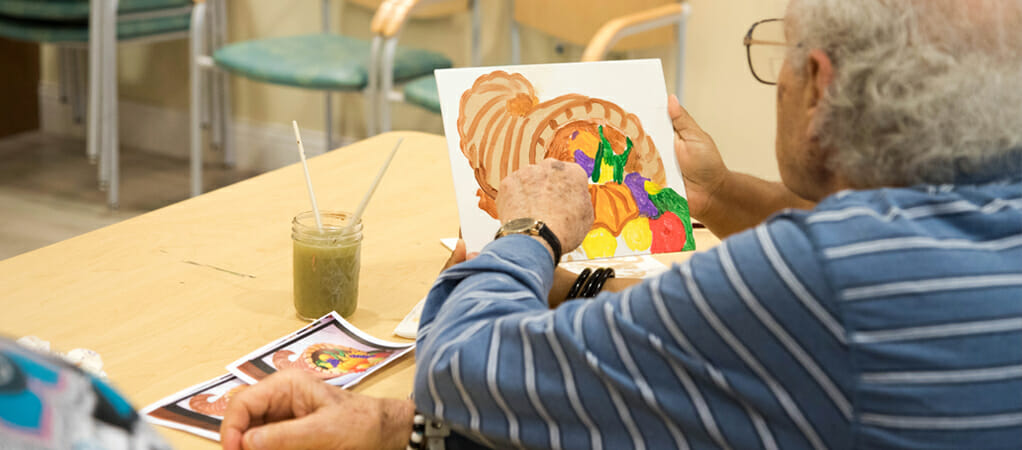 It's second nature for us to communicate through words, writing, facial expressions and actions. But what happens when a person no longer has the ability to communicate in these ways?
Those suffering from memory disease impairment can become riddled with anxiety and have outbursts of distress due to communication challenges. At our Memory Care Assisted Living Residences, our experts have taken this into account when creating programs and activities for our residents.
In a room filled with easels, paints and other various art supplies, our Memory Care residents can express themselves through art. This approach to awakening memory responses through art therapy has many benefits such as improving the bond between a resident and caregiver as they work on a project together; improving mood and attention span; stimulating the mind and reminding residents of their value. In fact, our Memory Care residents proudly display their artwork throughout campus for all to enjoy.
While memory impairment often takes away one's ability to accomplish complete tasks, the Alzheimer's Association has reported that investing in an artistic endeavor from start to finish provides a sense of validation to residents, giving them the opportunity to express their thoughts where language roadblocks have restricted them.
"We believe that art humanizes the health care environment, and through its beauty and symbolism, we believe it spurs healing," said Keith Myers, President and CEO of MorseLife Health System, noting that the connection between art and healing is something the staff and caregivers at MorseLife consider of upmost importance.
At MorseLife, we are proud to provide opportunities that increase the quality of life for our residents, and art therapy initiatives is one of our favorite ways to do this. If you are interested in finding out more about our innovative approach to memory care, call (561)767-8884 and schedule a tour today!