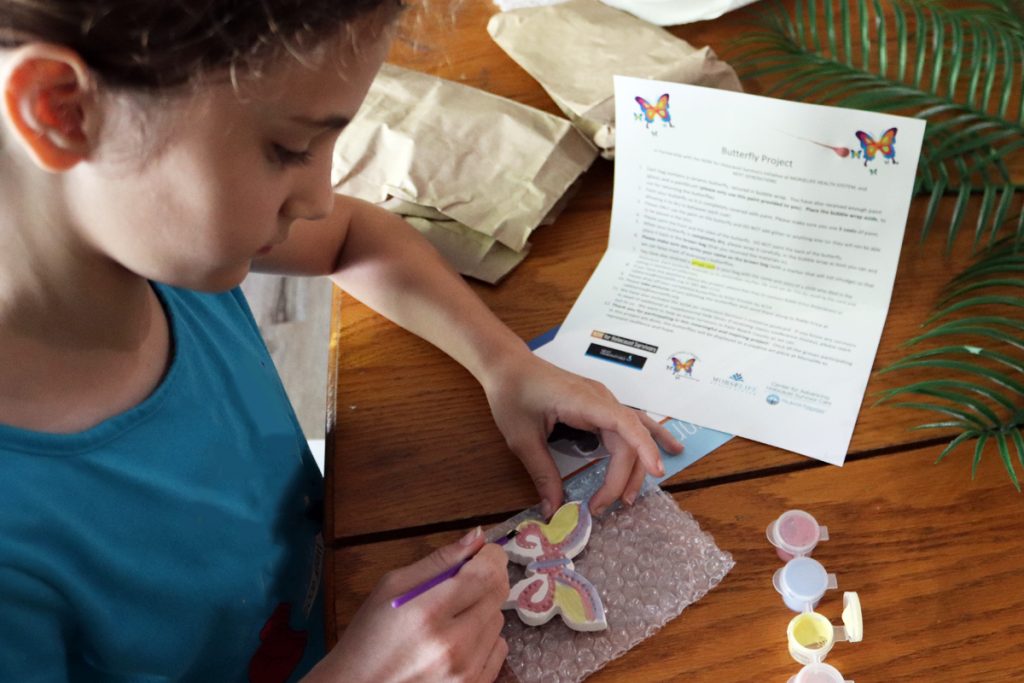 MorseLife Partners with Community Organizations to
Bring the Butterfly Project to Palm Beach County
A recent Jewish Journal story highlights how the project memorializes children who perished in the Holocaust and honored Survivors through art and education
MorseLife residents, Palm Beach County students, and community members are taking part in the Butterfly Project. In this educational and memorial-making project, each participant paints one butterfly for every child lost in the Holocaust.  The goal is to create 1.5 million butterflies worldwide as a display of resilience and hope.
Morselife Health System's NOW for Holocaust Survivors Initiative, along with NEXT GENERATIONS of Holocaust Survivors in Boynton Beach, the Palm Beach County School District, the Orthodox Union's youth group NCSY's Jewish Student Union, and the international Butterfly Project have partnered together to bring the Butterfly Project to the Palm Beach County community. The partnership was made possible through a grant from the Jewish Federations of North America's Center on Aging and Trauma, a project of the Holocaust Survivor Initiative.
"While we provide free care and support services to Survivors in poverty through our NOW for Holocaust Survivors Initiative, we also feel a profound obligation to educate younger generations and memorialize those who were lost in the Holocaust," said MorseLife Health System President and CEO Keith Myers. "Art can touch the soul in deeply meaningful ways, which is why this project is so powerful for children, families, and our residents."
Each butterfly comes with a biography about a child who was murdered in the Holocaust, relating information about their life to connect the artist to the victim. The Butterfly Project uses the lessons of the Holocaust to educate about the dangers of hatred and bigotry while cultivating empathy and social responsibility.
"All of the impoverished survivors we support through our NOW for Holocaust Survivors Initiative have suffered unimaginable trauma. With more than 5,000 ceramic butterflies being created community-wide in Palm Beach, this project represents hope for the future and the assurance that through education, history won't repeat itself," added Rabbi Erica Rosenkranz, MorseLife's NOW Initiative engagement director.
MorseLife has also announced plans to work with a local artist on a sculpture designed with the butterflies, which will be on permanent display at MorseLife and serve as a lasting symbol of endurance, hope, and change. The sculpture is to be complete in early 2022.