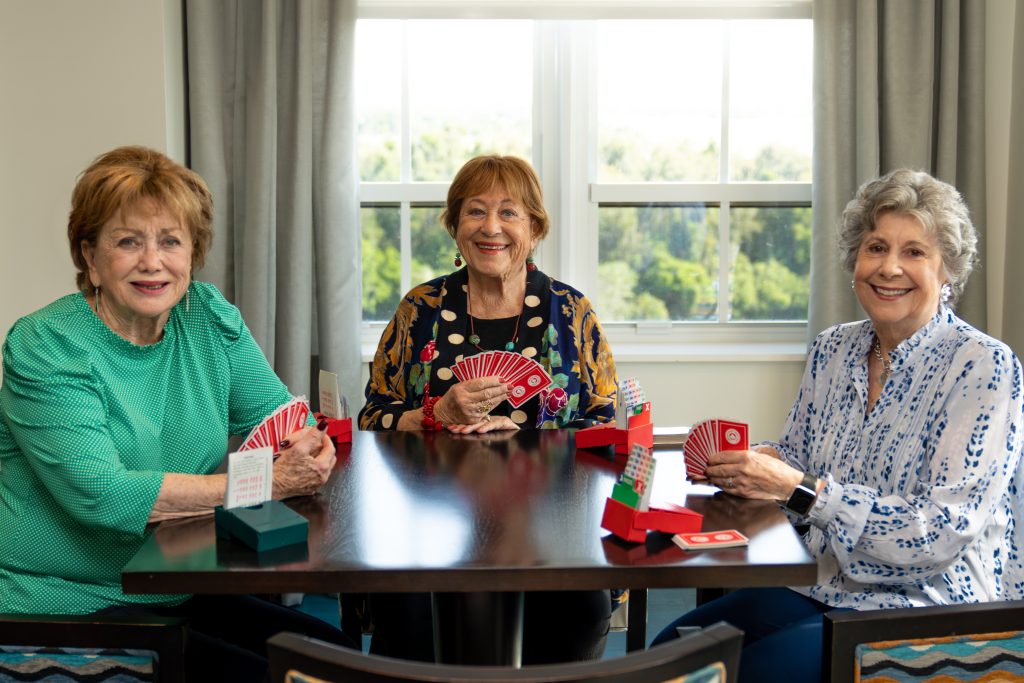 Deal Us In: Friendship is in the Cards at The Palace
The term card sharp usually describes someone who cheats at cards, but The Palace is home to a very different kind of card sharp, vibrant residents who stay sharp playing cards and socializing with others.
Although she says she's not an expert, Mitzie Goldenberg has been playing bridge for 15-20 years and continues to play three times a week.
"We didn't even have cards in my house growing up," Mitzie recalls. "It's nice to have something that you can sit down and play with different people. It is a social activity, and you can usually find bridge players all over."
Mitzie finds the social aspect is only one of the advantages of playing bridge.
"Bridge is sophisticated and interesting, and each game is a new learning experience. It's not Old Maid as it has a lot of rules. You have to be mentally alert, and it keeps my mind active," Mitzie says.
Carol Slater took up bridge when she was a student at Ohio University and now plays about twice a week.
"I hadn't played in years and years," Carol says. "I decided to take the game up here. It is challenging and very good brain exercise. I also play canasta and MahJong."
Carol also participates in several activities at the Palace such as beading and art as well as Wednesday morning conversation and Thursday crossword.
"I've gotten to know a lot of people because of my involvement outside of my apartment," Carol notes. "I've gotten to the point where I almost feel like it's a big extended family. You need to be willing to meet people and make a little effort."
Carole Braunstein and her husband Irwin enjoy playing canasta with other couples after moving to The Palace seven months ago.
"When we moved in, people were very welcoming and, as we started meeting people, they asked if we played canasta or other card games," Carole says. "A couple told us there was an open game. We met other people who played, and our social life took off. We play different games at different times."
As we celebrate Older Americans Month in May and its theme of Age My Way, we asked Carole what playing cards add to her life.
"On the most simplistic level, it adds socializing with different people and keeps your mind alert. It keeps you focused and challenges you,' Carole says.