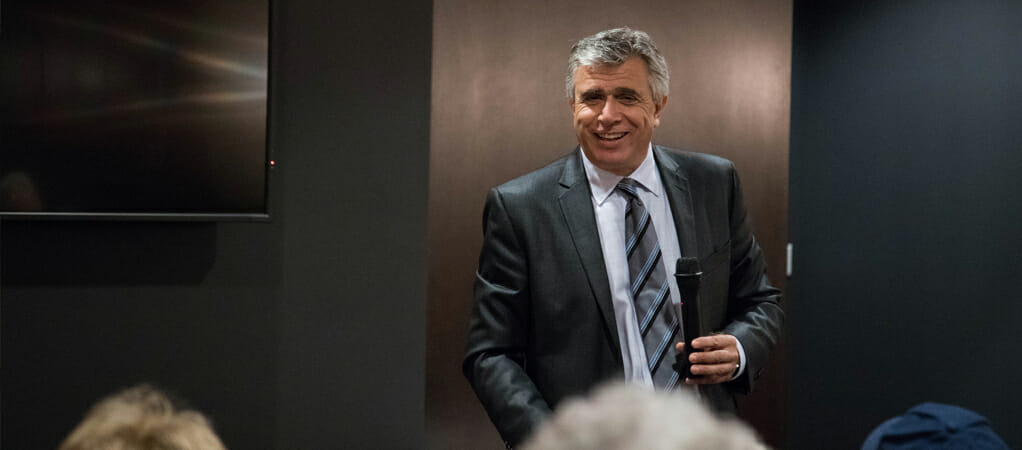 At The Tower at MorseLife, we have blazed an innovative trail for the path to Lifelong Learning. Engaging lectures and appealing classes fill our calendar of events to challenge our vibrant independent living community. Our residents and exclusive guests recently enjoyed a dynamic discussion with Dr. Robert Rabil, Lifelong Learning Society's Distinguished Professor of Current Events. One can simply tune into the evening news to grasp the relevance of his comprehensive lectures focused on the threats and challenges of U.S., Iran, and Korean Relations.
Dr. Rabil shed light on the key players of specific global conflicts and how they impact the world around us. Rabil is the author of several highly sought after books including, "The Syrian Refugee Crisis in Lebanon" and "Syria, The United States, And the War on Terror in the Middle East." His thought provoking articles have appeared in the Wall Street Journal, CNN, Chicago-Sun Times, Daily Star (Beirut), Middle East Quarterly, and more.
As the exclusive educational sponsor of Florida Atlantic University's Jupiter Lifelong Learning Society, The Tower at MorseLife features stimulating opportunities for community members and guests to enjoy the path to lifelong learning. Our Lifelong Learning initiative at The Tower features classes and lectures that enlighten, entertain, and enrich the lives of our senior living community. Our program offerings include classes in history, art, photography, crafts, health and wellness, and more. Our popular lectures highlight a broad range of diverse subjects, including cultural, political, and global topics.
At The Tower, we are committed to providing opportunities for you to increase your social interaction while discovering new interests and exploring new hobbies. We would like to hear from you. Help us build the framework of our lifelong learning initiatives by sharing your ideas for new classes and lectures.
Our dedication to lifelong learning enhances the mental, physical and social well-being of our community members. There is always the chance to discover new interests and nurture new ideas at The Tower. Call 561-687-5755 to learn more about our distinguished luxury independent living community.
Join us for an upcoming lecture & lunch. Click here to schedule your visit.