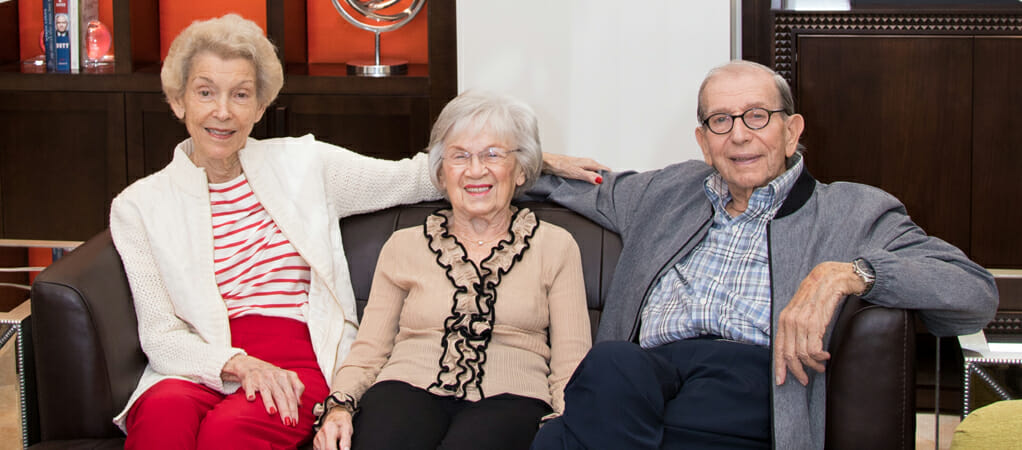 Recalling the Laughs and Fun of Long-Lost Friendship
Old Friends Reunite at Levin Palace
Residents Ted and Irene Neuvelt thought two younger women touring the Levin Palace one afternoon looked familiar, but initially they couldn't place them.  Then, Ted realized who they were – the daughters of old friends the couple had not seen in over 40 years.
On the next visit, the young women brought their mother, Ethel Muschel, and when she laid eyes on Ted and Irene, the memories of the fun and laughter they shared when her husband Sam was still alive immediately came back to her.
At that moment, Ethel said her mind was made up — she was definitely moving to the Levin Palace– and coincidentally, she had already chosen in advance an apartment right across the hall from them.
The Neuvelts, who moved to the Levin Palace four months ago, noted that they met Ethel and her late husband Sam 55 years ago at the Nassau Beach Hotel in the Bahamas.  "We were among five couples who became friends on that vacation," Ted said.  "We all shared similar interests and backgrounds and enjoyed each other's company."
The Neuvelt's lived in New Rochelle and the Muschel's lived nearby in Oradell, New Jersey.   Ted noted that among the couples they met in the Bahamas, he and Irene immediately connected with Ethel and Sam and become very good friends.   Ethel said that Ted "made me laugh."
Over nearly ten years, the couples traveled to each other's homes and one year, went to Barbados.  "We had wonderful times together over these years," noted Ted.  "We, however, all drifted apart as time went on due to changes in our lives, but we never forgot the fun we had."
Ted said he and Irene moved to Orlando 35 years ago where she was offered a job working for a publishing company, and he had already retired, later moving to Jupiter and Palm Beach Gardens.   Ethel and Sam moved to Boynton Beach over 35 years ago and he passed away over 30 years ago.
Fast forward to their meeting at the Levin Palace, Ethel recalls the day they met in the dining room she said excitedly: "oh my God,' it's Ted!"   "The beautiful memories – the fun and laughter we all shared came immediately back to me, and I couldn't wait to move here,"  she said.
The three friends now meet for dinner and enjoy activities and events together at the Levin Palace.   What's most important, according to Ethel, is that they can relive the best times of their old friendship 50+ years ago and today make new memories!
At Levin Palace, you never know who you might connect with – renewing old friendships and making new one!