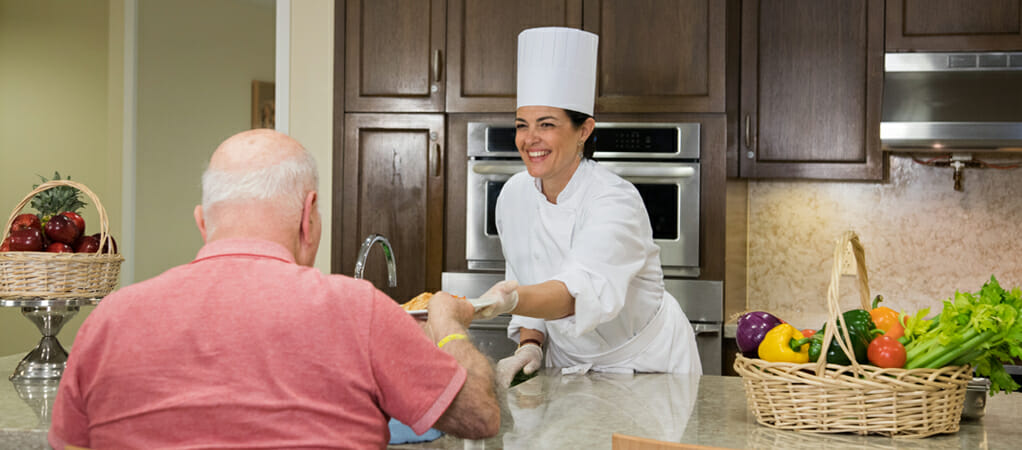 Topic: Food for Thought
One of the most important things we can do is consider the types of food we are consuming and how they can affect our cognitive wellness. The Memory Care Residences at MorseLife offer innovative, resident-centered programming that captures the comforts of home. In fact, one of our favorite ways to keep our residents healthy and engaged is through delicious food!
That's why MorseLife developed an 'open kitchen' concept for the Memory Care Residences, giving residents the unique opportunity to sit, observe, discuss and even sample recipes as the chefs prepare meals.
Everyday. our chefs engage our residents to join them in the kitchen through the wonderful smells of cooking, and then allow them to watch as they create flavorful meals designed to improve their cognitive heath. Here are the top three foods you can find in our pantry that aid in cognitive wellness:
Berries:
Just a cup of these tiny "super-fruits" is filled with antioxidants that protect brain cells from harmful free radicals and help reduce inflammation, a staple of degenerative brain disorders. Adding blueberries to your diet also increases production of brain cells in the hippocampus – the region of the brain responsible for memory.
Walnuts:
How interesting that these brain-shaped nuts are actually the best for your brain health. Walnuts are rich in a variety of pro-brain nutrients such as omega-3 fats, vitamin E, copper, and manganese. Whether a baby or a baby-boomer, walnuts have been shown to protect brain health in newborns, improve the cognitive performance in adults and prevent or slow-down age-related cognitive decline. All the benefits of these "super-nuts" are available with a daily intake of a quarter cup.
Avocado:
High in monounsaturated fats, avocados help to protect brain cells, as well as increase the production of acetylcholine, a neurotransmitter that plays an important role in learning and memory. These monounsaturated fats found in avocados also aid in a healthy blood flow and help provide oxygen to the brain, heightening its functionality. Just a quarter of an avocado per day can help kick-start the journey toward a healthier you.
The team at the Memory Care Residences at MorseLife is proud to share our knowledge on simple ways to keep you living your healthiest life. If you wish to find out more about our approach to memory care, call us at (561) 767-8884.