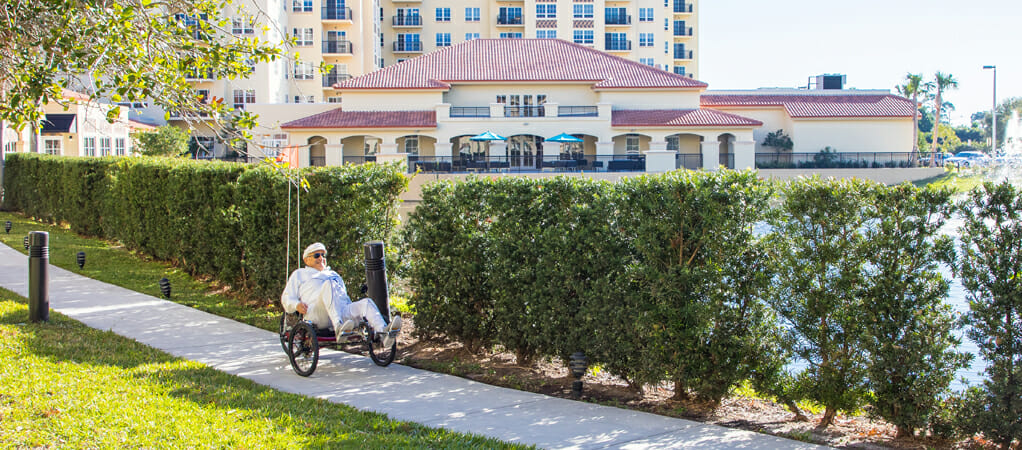 MorseLife spares no opportunity to provide our residents with the highest quality programming. From glamorous parties to informative lectures, and multiple dining options to gather for a meal with friends, there is always something to do on campus, including the opportunity to break a sweat! At MorseLife, the overall cognitive and physical health of our residents is of upmost importance, providing them with a number of fitness classes and activities to stay healthy and active at any age.
For one resident at the new Stephen and Petra Levin Tower, MorseLife has become the quintissential place to pursue his active lifestyle. On any given day, one can find Mr. Richard Klein on the move around MorseLife's campus on his trike bicylce, a low-impact form of exercise this former All-American track star has adopted to continue to stay healthy and active.
Mr. Klein began participating in competitive sporting events in high school when he joined the track and field team prior to serving in World War II. Upon returning from the service, he attended the Univeristy of Rhode Island, playing tennis and running track at the collegiate level. This catapulted him into a lifetime of athleticism, competing in the USA Track and Field Masters, the Penn Relays, and recording a 5:50 mile time at 60 years old.
Now at age 90, Mr. Klein-who has over 350 medals from various sporting events-says he has the "thrill of victory and very little agony of defeat," and takes full advantage of all MorseLife's campus has to offer; from the ample grounds at MorseLife which give him the opportunity to ride his trike around, to the Tower fitness center where he can be found exercising five days a week.
At MorseLife, whether it be residents participating in one of our fitness classes or taking advantage of the exercise machines and hands-on training, it is our pleasure to provide opportunities for residents to maintain active and healthy lifestyles.