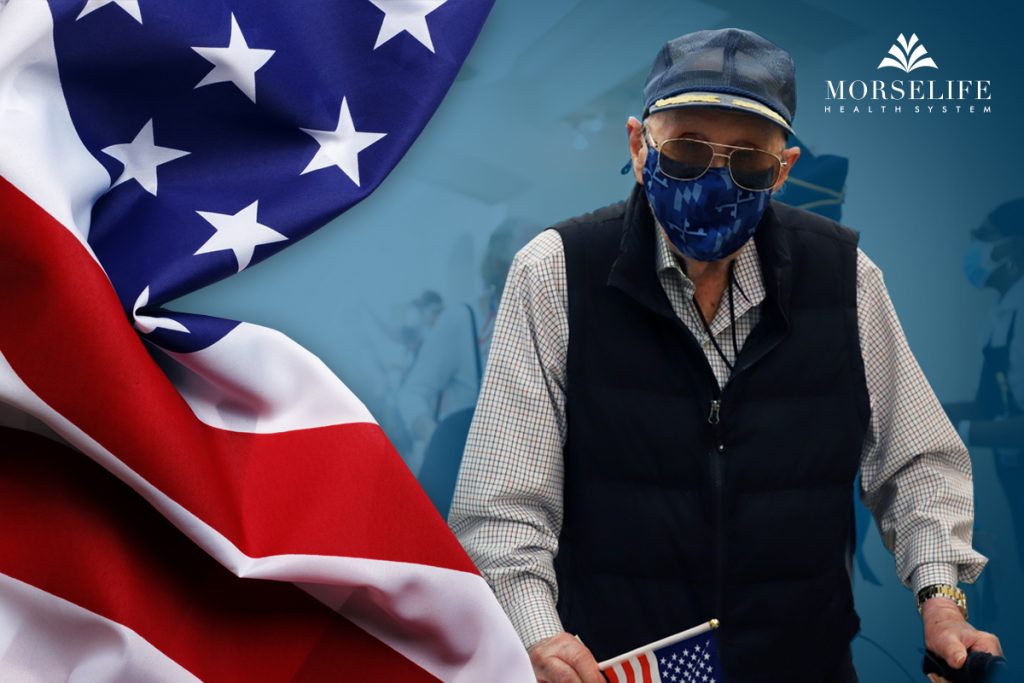 MorseLife Honors Resident Veterans on November 11th
100-Year-Old Veteran and Tradition Resident Bebe Cohan Shares His Personal Journey
This year leading up to Veterans Day, MorseLife spoke with 100-year-old Tradition resident and veteran, Bebe Cohan.  Cohan, who has lived at MorseLife for more than ten years, gave up the life of a big band drummer to serve his country during World War II.
"I was a drummer with the Charlie Spivak band and I remember we were playing in Washington, D.C.  when I met a member of the U.S. Navy Band," said Cohan.  "As soon as I learned about it, I went straight down to the draft board to see if they would take me, but they weren't taking people for the band."
As it happened, Cohan was drafted not long after and attended the United States Naval Training Center, Bainbridge, and studied hard to become a Navy Hospital Corpsman. He was then sent to the highly reputed Bethesda Naval Hospital that often served members in Congress and other high-level government leaders.
After the war, Cohan continued as a musician before deciding to pursue a career in real estate.  Married to his late wife for more than 70 years, Cohan has three children.
"There are more than 30 courageous veteran seniors, each with a unique story to tell, who live on the MorseLife campus," said Keith Myers, President & CEO of MorseLife Health. "We are very proud to have these remarkable individuals in our care, and to be able to hear their inspiring life stories. These individual's experiences are wonderful reminders of the resiliency of the human spirit."
MorseLife commemorated Veterans Day for Tradition and Palace residents during a pre-taped television ceremony and staff delivered certificates of appreciation to each veteran in their residences.