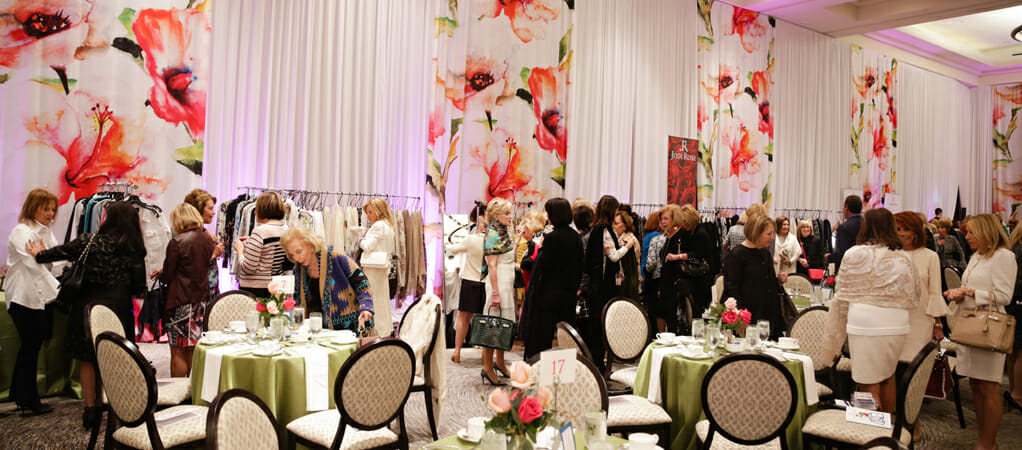 Palm Beach, FL, February 1, 2017 — More than 450 women spent a beautiful day shopping at high end boutiques, having lunch and playing cards to help MorseLife Health System in its mission of providing exceptional care for seniors of Palm Beach County. The MorseLife Luncheon was held February 1 at The Mar-a-Lago Club in Palm Beach.
Diane Goldsmith, Phylis Fogelson, Helene Kaplan and Jean Sharf were first time Chairmen for this event, supported by Barbara Rothschild and Andrea Stark, Chairmen of the Friends of MorseLife which organizes MorseLife fund raisers throughout the season.  Guests included Beth Goldberg, Jill Sirulnick, Michelle Jacobs, Gilda Slifka, Andrea Stark, Sandy Fineberg, Marilyn Katz, Heidi Schuster, Susan Ross, Jamie Feig, Dorothy Kohl, Barbara Greenwald, Terri Sriberg, Sheila Engelstein, Lori Gendelman, Penny Wallerstein, Marsha Goldberg, Barbara Davis, Sandy Krakoff,  Mickey Beyer, JC Meyers, Ryna Greenbaum, Harriet Rothfeld, Roni Doppelt, Ellen Jaffe, Sondra Mack, Bonnie Dwares, Ronnie Heyman, Nicki Harris, Roberta Kozloff, Sandy Bornstein, Diane Goldman, Vivian Scharer, Joyce Robinson, Judie Schlager, Judy Snyder, Terri Sriberg and Robbi Toll.
The MorseLife Luncheon, which followed the spectacular MorseLife Dinner Dance "An Evening in Havana" last December 2nd, is one of a series of MorseLife fund raisers during the Palm Beach social season.   Other events include the MorseLife Literary Society on February 16 and March 16 at The Colony Pavilion; and the MorseLife Golf Classic on March 20th at Trump International Golf Club in West Palm Beach.
For more information, call (561) 242-4661 or email foundation@morselife.org.