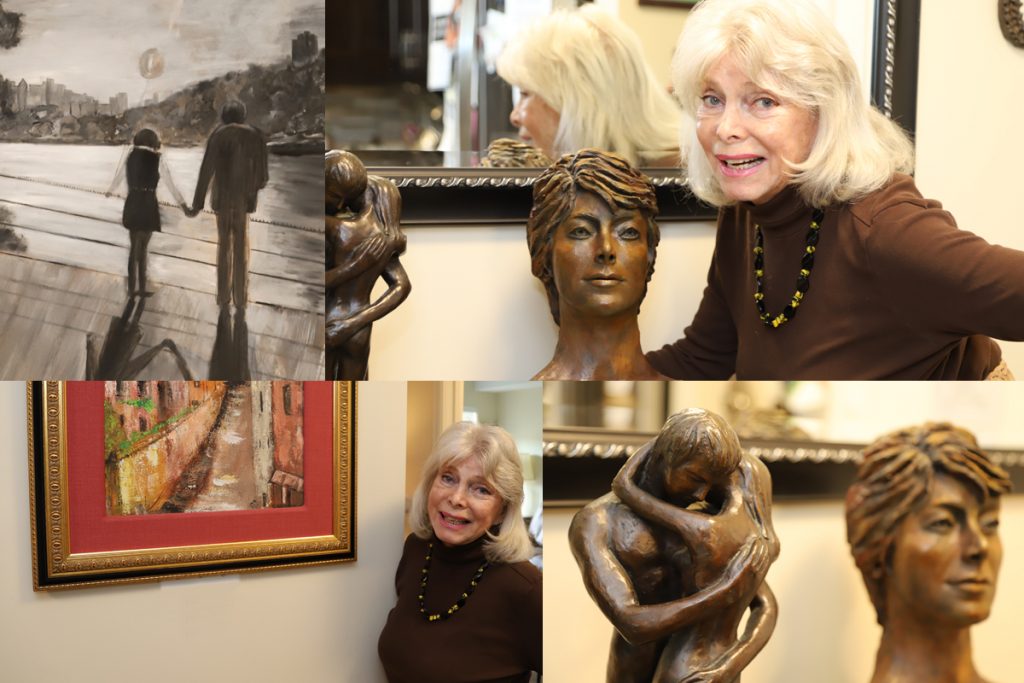 Levin Palace Resident, Selma Klein, Finds Joy through Painting and Sculpture
The famous 20th-century artist Pablo Picasso said, "Art washes away from the soul the dust of everyday life." Current findings in art therapy and music therapy would agree with this observation, as would the many MorseLife residents and staff who have experienced it for themselves.  Our residents have access to a range of leading-edge creative programs, from dancing and sculpting to playing musical instruments. We have witnessed firsthand how creative engagement enhances the quality of life and overall well-being.
We sat down with Selma Klein, a Levin Place independent living resident who radiates positivity and enthusiasm for life, to discuss her stunning artwork and what it means to her.  Selma, a newlywed woman who met her husband, Norman Berlant, at the Levin Palace and married late last year, has enjoyed painting and sculpting for more than 25 years.
"I was a vocalist in show business, and I decided to take up watercolor, oil painting, and sculpture as a way to take a break from work," said Klein.  "I love the human figure and enjoy being creative through sculpting. It's engrossing, and that's exciting."
Selma was born and raised in Brooklyn, New York, and resided in North Miami Beach for 45 years with her late husband.
"We were a great-looking couple, but he passed away soon after I moved to MorseLife, and I needed to find new ways to love life and stay positive.  MorseLife is a good place to do that with so many opportunities to stay active and social," she noted.
Selma has participated in the many art classes offered at MorseLife. When COVID hit, she turned to the in-house programming provided on the television to continue to stay active and engaged.
"Even when I was at work alone painting in my kitchen during the pandemic, I felt transported to another place and time. Creativity does that to you. It's important to wake up each day and choose to be happy, and painting and sculpting help me to do that," added Klein.