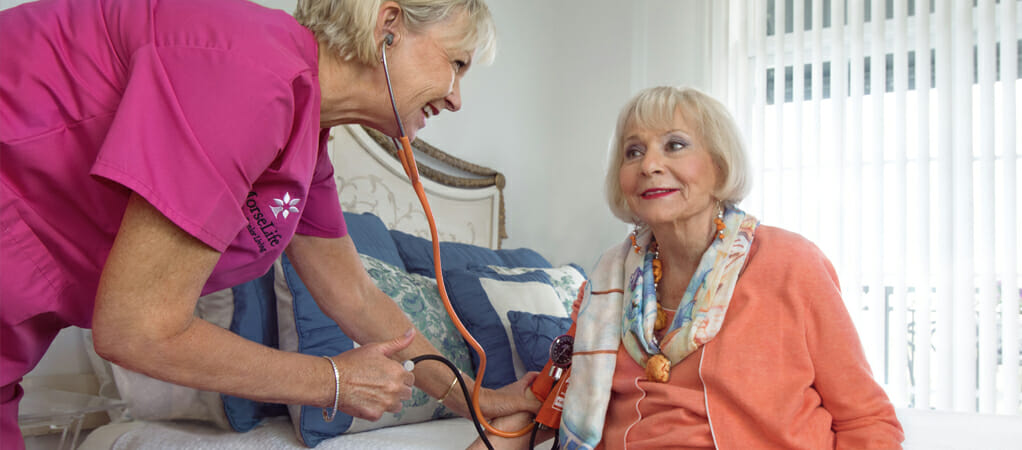 As a generation accustomed to juggling work, family and social obligations in pursuit of the perfect work/life balance, adult children may be tempted to "do it all" when taking on a caregiver role for aging loved ones. This mentality of stepping up to the challenge of "caregiver" can often leave people feeling discouraged and often times exhausted. We at MorseLife believe your loved one deserves exceptional care filled with compassion, and you deserve to live your life with peace of mind in knowing your family member is completely cared for.
Experts from the MorseLife Home Health Care team have identified five signs it may be time to bring in professional help.
1. Your Loved One Needs Help Bathing/Dressing: When relatives start to need assistance with basic care needs including bathing, dressing or trips to the bathroom, home care can help preserve personal boundaries and maintain a feeling of independence for aging relatives.
2. You Need to Administer Regular Medication: Managing a medication schedule or administering regular pills and/or shots can be stressful for those without medical training. Home health care can make all parties more comfortable by relying on medically trained professionals.
3. You're Worried About Leaving Aging Relatives Alone: Whether you're looking for someone to keep a loved one company while you're at work, concerned that a parent may wander out of the house, or worried that mom or dad won't maintain exercise and health regiments, home care can provide a solution.
4. Your Loved One Needs Physical, Speech or Occupational Therapy: Inviting trained medical professionals into your home for therapy sessions can help your loved one feel more comfortable and relieve you of the stress of arranging appointments and transportation amidst a busy schedule.
5. You Need Help with Transportation, Meal Prep or Housekeeping: Home health care doesn't just mean nursing services – it can also help caregivers with daily needs like transportation, meals and housekeeping.
From companionship to rehabilitation, MorseLife Home Health Care is perfectly framed to help your loved one remain independent and at home. Each day we work with local and out-of-town family members to coordinate personalized home care services tailored for loved ones. For more information, please call (561)616-0707.