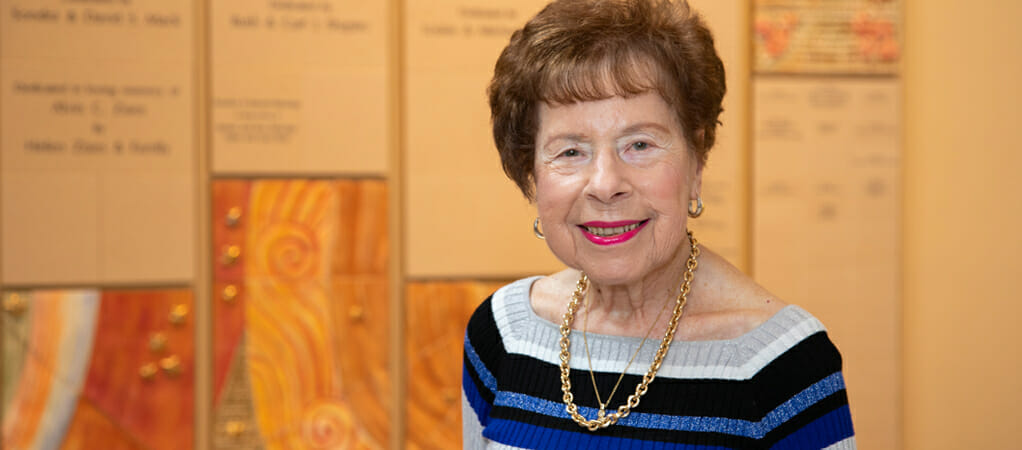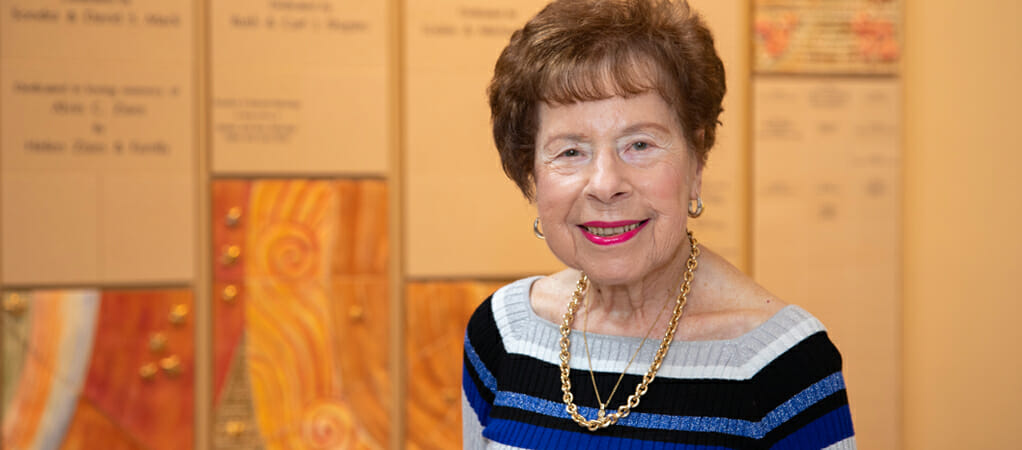 Moving To MorseLife:
A Decision to Care for Herself and Her Husband
In her apartment on the fifth floor of The Tradition at MorseLife, Libby Klein's living room is adorned with photographs of her beautiful family, including bar and bat mitzvah memories, weddings and anniversaries.  Peering throughout the room, Libby notes how blessed she has been over the years as she comes to terms with the passing last December of her beloved husband of 67 years, Seymour.
Libby and Seymour lived in Brooklyn where they married and made a home for them and their three children.  Seymour had been a successful financial advisor on Wall Street after serving in the military during and after World War II, and Libby had been a teacher and real estate broker in Manhattan for nearly 45 years, as well as a published author.
"After the children were grown, we bought a home in Boynton Beach and became snowbirds for nearly 18 years," she said.  "However, after Seymour became progressively worse with Alzheimer's disease, we decided to remain here full-time with the help I needed to care for him."
Libby noted that she could have been stubborn when her children intervened and suggested that she could no longer care for Seymour on her own.  "We had a gorgeous home in Boynton and we were so happy there," she said   "But the reality was Seymour needed more than just an aide coming to the home – and that's when my children told me about MorseLife."
After great consideration, Libby decided to move to The Tradition at MorseLife, with Seymour across the campus in the Memory Care Assisted Living residence.   "He received very good care throughout his time in the memory care residence, and I was able to walk over every day to spend quality time with him," she said.   "I always felt the residence was a warm, comfortable place for Seymour with all of its care and activities, and of course, the smell of chicken soup wafting from the open kitchen!"
Libby noted that she felt it was smart to listen to her childrens' advice as the move was the right decision for her.   "When we moved here two years ago, I knew that at The Tradition, I wouldn't have to worry about the daily responsibilities of running a home, and even more important, would not have to take on the daily needs of Seymour on my own," she said.  "While I did spend a great deal of time with Seymour each day, I also knew that I was leaving him in good hands when I went back to my apartment."
Seymour passed in December, and today Libby is focused today on spending time with her good friends at The Tradition and maintaining regular contact with her family and friends in New York.   "My goal now is to visit my family in Scarsdale in August, enjoying time with all of my children, seven grandchildren and 10 great-grandchildren," she said.  "I am looking forward to it!"
When she returns, she looks forward to finishing her second novel, a follow up to her crime novel of two years ago, Sudden Impulse, and to taking more time to be prolific and creative.