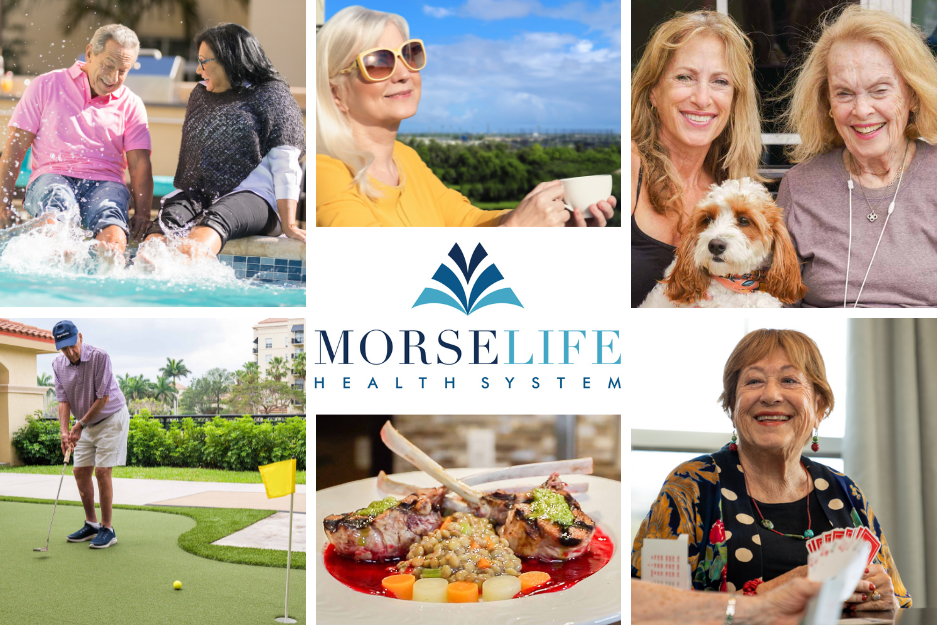 What are MorseLife's "six Fs" for Independent Living, and how do they promote "younging"?
At MorseLife, residents are not just living longer; they are living younger.
Playfully referred to as "younging," it's the philosophy behind MorseLife's all-inclusive Independent Living lifestyle at the Stephen A. Levin Palace. The term refers to how residents, who are ages 65-plus, are once again free to enjoy life as they did earlier in their lives. Now, they are liberated from the responsibilities of home ownership, building careers, and starting families. Here, residents feel like every day they are living in, well, a palace – where royal treatment reigns.
MorseLife never shies away from providing the utmost in premier services and amenities, with an emphasis on the "six Fs," food, fun, friends, family, freedom, and future.
Food: A good meal can soothe the soul. Under the leadership of renowned Chef Matt Hammett, MorseLife's Levin Palace offers gourmet breakfast, lunch, dinner, and casual dining options in Kosher dining room, non-Kosher dining room, and deli café settings. Independent Living residents can pick and choose healthy meals that suit their tastes throughout the day or share a delightful meal among friends.
Fun: Whether it's a morning Tai Chi class or a nightly Masquerade Ball, Levin Palace residents are invited and urged to enjoy a calendar packed with fun and fascinating social, cultural, and educational programs. If residents are in the mood for a good movie, newly released films are screened nightly in MorseLife's private theater.
Friends: There's always a reason to socialize with a robust activities schedule that includes crossword puzzling, educational lectures, beading, Resin art, bingo, and so much more. With a poker room, art studio, library, on-site fitness center, state-of-the-art dog park, and chic cocktail lounge that are buzzing with daily social activity, it's hard to feel lonely at Levin Palace.
Family: Children, grandchildren, and even great-grandchildren are encouraged to routinely stop by for leisurely visits. Extended families enjoy time spent at the pool, listening in on an educational lecture, painting with residents, or simply enjoying some quiet time as a family in a spacious residential apartment.
Freedom: Levin Palace offers a selection of luxurious one- and two-bedroom floor plans that allow residents to live independently in a space that fits their needs. Apartments offer spacious bedrooms and living rooms, high ceilings, contemporary kitchens, large windows, and private balconies. Housekeeping services, concierge valet parking, Wi-Fi, and 24-hour security.
Future: MorseLife prides itself on its lifelong learning offerings. Friedman Hall Auditorium and Palace Theater are hubs for residents who enjoy expanding their knowledge and exercising their minds. To stay fit and healthy, MorseLife offers a wide selection of fitness classes and the latest European Technology equipment. To soothe and rejuvenate tired muscles, residents can relax in the Whirlpool or indulge in a luxurious spa treatment. With an onsite medical clinic run by a Harvard-trained physician and a full continuum of care available right on campus, Independent Living residents can rest assured that the high-quality care they may need in the future is readily available.
"MorseLife's Levin Palace is the most luxurious Independent Living in the country," MorseLife President & CEO Keith Myers said. "The residents who live here have worked exceptionally hard all their lives to live in the best part of the country and enjoy the best chapter of life. They deserve to be treated like royalty, and we are more than happy to accommodate them. MorseLife really does mean more life."