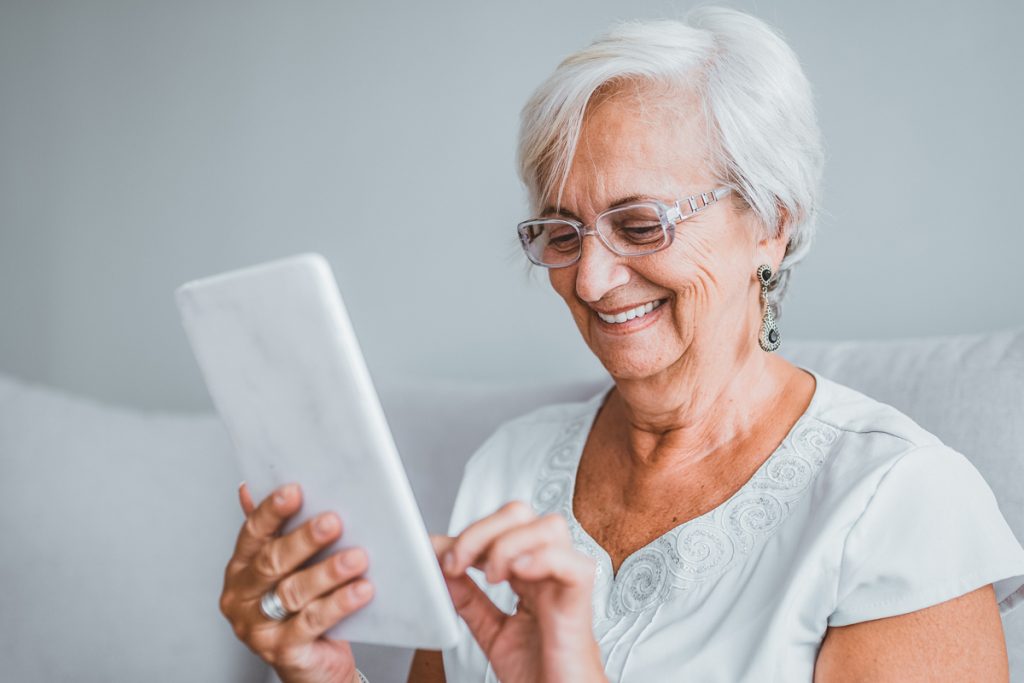 The Memory Care Residences at MorseLife Introduce iN2L Technology to Engage Seniors
Simple Touch Technology Offers Opportunities for Connection, Learning and Fun
The Memory Care Residences at MorseLife continue to introduce innovative new programs and therapies to encourage joy and personal fulfilment among residents. One new program recently introduced to counter the isolation experienced due to the COVID-19 pandemic is iN2L, an easy-to-use engagement technology that caters to each resident's wide range of abilities and interests.
iN2L requires no computer experience.  Residents simply touch a picture on the screen and begin enjoying fun activities that encourage conversation, interaction, and learning with each other, their caregivers, and family members. The iN2L library of activities includes history, travel, movies, classic television, music, trivia, quizzes, games, puzzles, fitness programs, spiritual content and more.
For memory care patients, the new engagement technology program particularly helps to:
Facilitate easier connections between residents and their loved ones. Video visits on large screens only require a few pre-programed basic taps and loved ones can leave pre-recorded messages to provide comfort to residents at any moment.
Redirect residents who may be feeling anxiety, depression, or loneliness to a more positive experience such as viewing cherished family photos and videos, playing a favorite game, watching a movie or listening to an uplifting tune.
Remember events, people and places from their past lives, which is an important aspect of memory care. iN2L programing provides residents and caregivers quick access to a personalized profile full of positive visual and auditory activities that impact mood and the quality of daily life.
The Memory Care Residences at MorseLife offer residents access to other exciting and cutting edge cognitive therapies such as the Music & Memory ™ program, where residents engage in ballroom dancing, music and art therapy, and have access to iPods with personalized playlists that connect them to the music they love. To find out more, visit https://morselife.org/memory-care/.