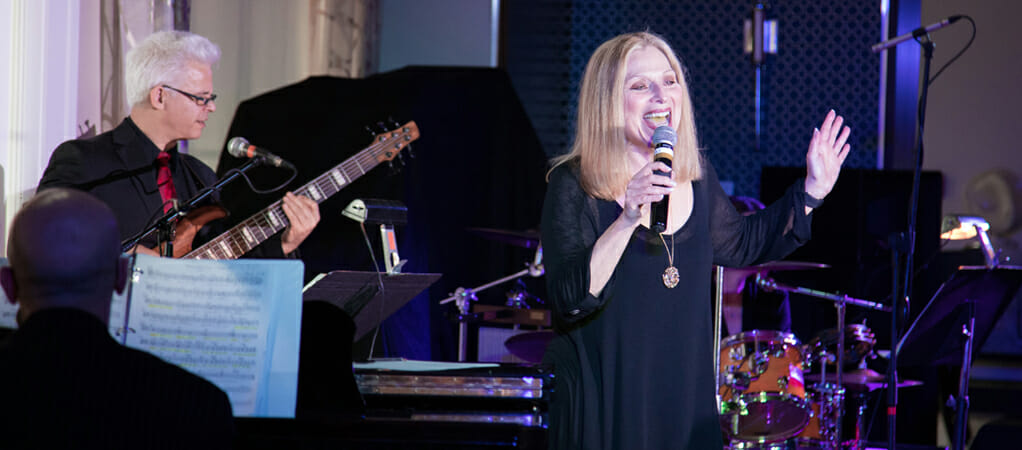 Last week, critically acclaimed Broadway star Roslyn Kind dazzled residents of The Stephen and Petra Levin Tower at MorseLife in celebration of Valentine's Day.
From critically acclaimed recordings to sold-out performances on Broadway, Roslyn, affectionately donned "Rozzie," performed hits from her musical revue, which spans from old-time favorites to 21st Century pop sensations. The moment Rozzie stepped into the spotlight, attendees were charmed with her graceful demeanor and the captivating stories she shared during the outstanding vocal performance.
Known as the "girl who has played just about every nightclub," we were honored to host such a seasoned and outstanding artist like Roslyn.
After taking some time off and quietly residing in in her hometown of Los Angeles, Roslyn Kind bounced back on the entertainment scene in 2014, going on tour around the United States, Canada and Mexico. The response from her return to the entertainment industry was tremendous, encouraging her to kick-start the next chapter of her career and perform at a variety of different venues in front of many beloved fans.
If you are interested in joining the residents of the Stephen and Petra Levin Tower at MorseLife in enjoying spectacular performances just like this one, please call (561) 701-8367.