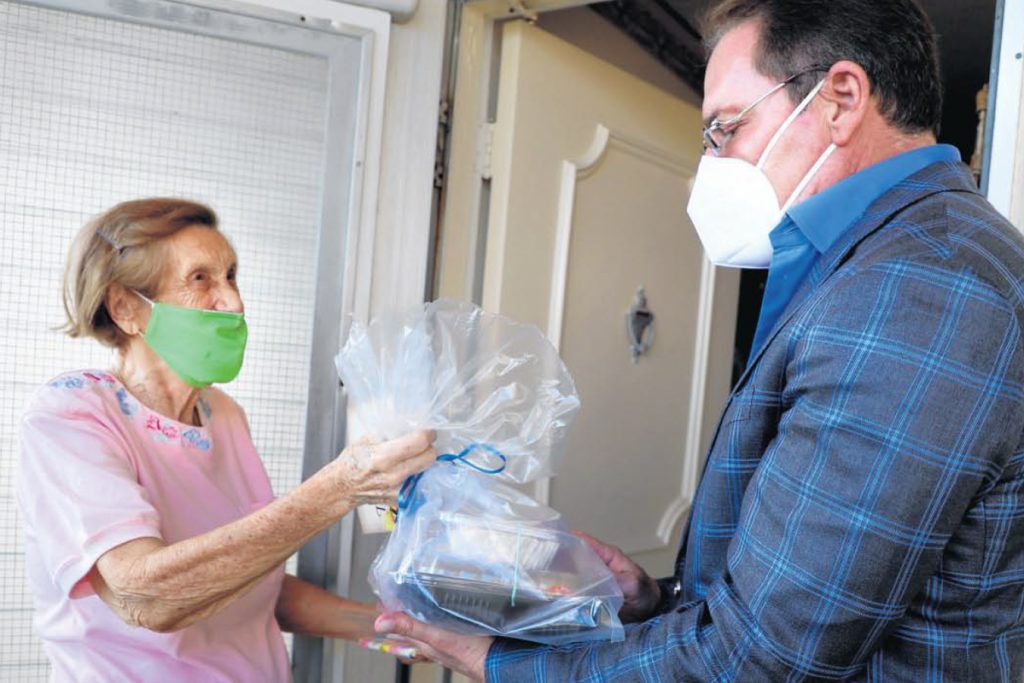 MorseLife Meals-On-Wheels Delivers its Millionth Meal to Seniors in Need
MorseLife celebrated the 25th anniversary of its Meals-On-Wheels program with CEO and President Keith Myers delivering its millionth Kosher meal to a Holocaust Survivor who depends on food deliveries made possible by the MorseLife Foundation to get by.
Myers personally delivered the one-millionth meal to 97-year-old Holocaust Survivor and original Meals-on-Wheels recipient, Gisela Fischer.
"We have much to be thankful for this year, even amid the challenges of the ongoing pandemic," said Myers. "MorseLife has protected the well-being of the seniors in our care and continues to be a lifeline to seniors living throughout the community."
MorseLife's Meals-on-Wheels program was launched in 1995 with a single volunteer who delivered 100 meals per week.  Today, the program has grown to 120 volunteers who provide more than 50,000 kosher meals annually.
"We continue delivering meals and friendly visits on a weekly basis to seniors who rarely leave home and depend on us as a type of lifeline," said Pat Stein, an 85-year-old volunteer who has been making deliveries for more than 20 years with her 90-year-old husband, Lenny.
While MorseLife's Meals-on-Wheels program provides meals for approximately 2,500 low income, homebound seniors in Palm Beach County each year, without regard to a client's ability to pay, the impacts of COVID-19 have increased the need for meals by more than 20 percent. Seniors with the greatest needs now receive seven meals a week instead of the three they received prior to the pandemic.
Dollie Daniels, MorseLife Cook, has prepared meals for the program since its launch 25 years ago. "When I started cooking at MorseLife I prepared around 15 meals a day, and now I cook more than 300 meals each day," said Ms. Daniels. "My great-grandmother told me when I was young that I would be a cook and I would take care of people.  She was right, I love cooking and I feel so good about what I do each day. It is wonderful to watch this program expand, reaching more and more seniors who need our help."
Donations to MorseLife's Meals-on-Wheels program can be made by visiting morselifefoundation.org , or by calling (561) 462-8450.