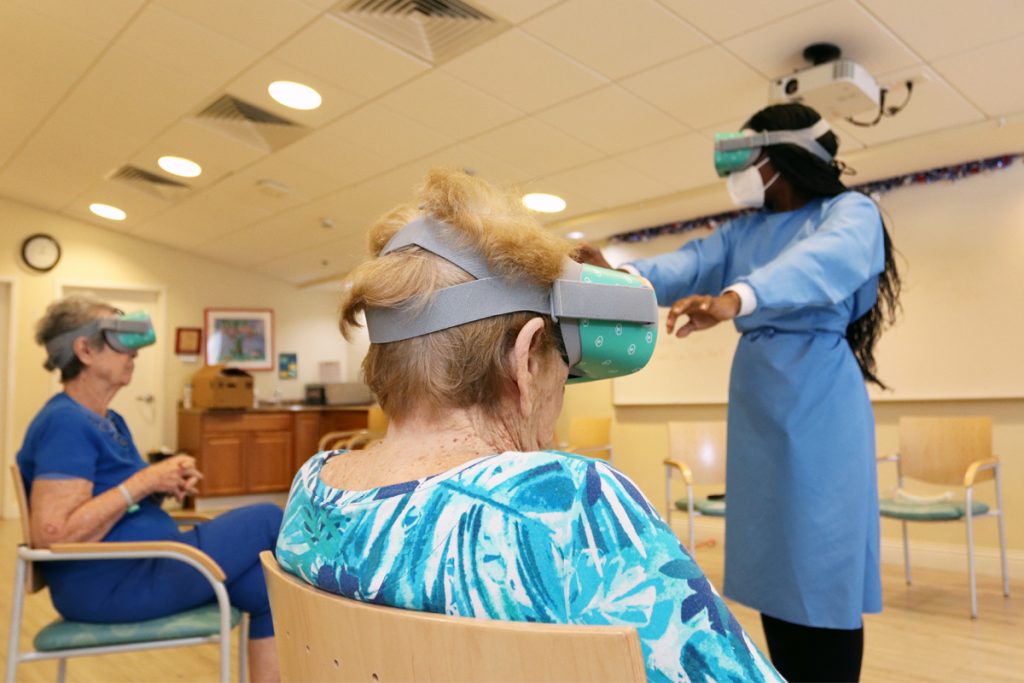 MorseLife Health System Introduces Virtual Reality (VR) Technology
MorseLife has launched a new three-dimensional virtual reality (VR) program to provide residents enhanced opportunities for engagement and inspiration.
"With VR you can travel to Paris, fly in a hot air balloon, swim with dolphins or even visit a childhood home. These visually-rich experiences elicit excitement, educate, stimulate memory, uplift the spirit and so much more," said Keith Myers, President and CEO of MorseLife Health System.
Virtual reality is a powerful tool that immerses immobile and cognitively impaired residents in visual experiences outside their physical realm of possibility. While all MorseLife residents can benefit from VR, its transformative benefits among the memory impaired living at the Memory Care Residents at MorseLife have been particularly noteworthy. Areas of the brain closed off by the disease process are stimulated through VR sensory experiences, evoking healthy physical movement during the interactive process. Psychological problems and mood disorders are also reduced as residents immerse themselves in the program where they can enjoy vibrant 360-degree surroundings, discover new places or reminisce about their past.
VR is easily customized to each patient's passions and interests with an extensive library of content and experiences, including interactive games, apps, and a family engagement platform. Participants need only a viewing headset to take museum tours in foreign countries, attend bucket-list cultural events, fly across the globe, climb a mountain or even visit the church they were married in.
"One unanticipated delight has been the connection with families," said Robert Holway, MorseLife Life Enhancement Coordinator. "The VR system offers a Family Portal, which allows families to contribute to their loved one's viewing events by uploading personal photos and home videos. It's a beautiful way to get the grandchildren and children of our residents involved."