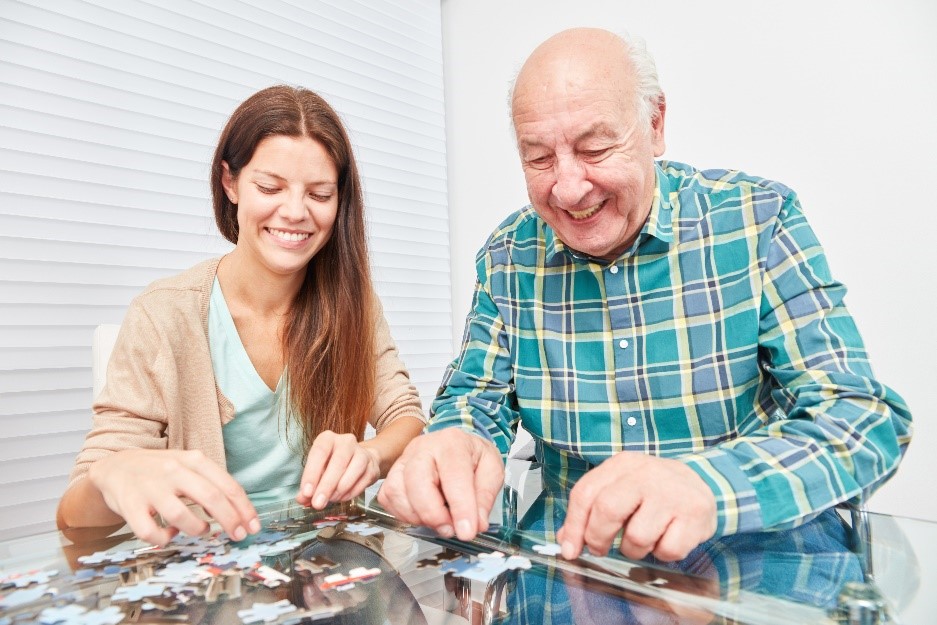 MorseLife Five-Star Memory Care Can Bring Peace of Mind During a Difficult Life Transition
Realizing your loved one may be facing the onset of dementia can be a lonely, helpless feeling. Take comfort in knowing you are not alone. Caring for a loved one suffering from a progressive memory disease such as Alzheimer's takes tremendous time and patience.
Many who attempt to singlehandedly care for someone suffering from significant memory impairment eventually find themselves at the agonizing crossroads of contemplating whether to continue alone or navigate the often-overwhelming unknowns of seeking outside help.
There is another option. By moving your family member or loved one to a high-quality memory care residence, you can feel good about ensuring they receive proper care in a safe and loving environment with a continuum of care that can significantly improve their quality of life.
Here, at MorseLife's five-star Memory Care Residences, we're using new and exciting ways to provide residents with groundbreaking therapies to help slow the progression of memory-related illness, reduce difficult dementia symptoms, and help engage them in fulfilling ways. With around-the-clock access to expert care, residents can experience art, music, dance, and even virtual reality therapies that can bring them joy, healthy stimulation, physical movement, and a reduction in mood disorders.
Notably, MorseLife is the only senior care provider authorized by the State of Florida to offer cannabinoid-based therapies, which help to uplift spirits, promote better sleep, ease pain and reduce reliance on pharmaceuticals.
MorseLife's multi-sensory approach includes the aroma and sight of home-cooked meals prepared in an open kitchen. Residents are also encouraged to engage with friends, family, and care staff in warm, homelike living areas and enjoy nature in the tranquil outdoor gardens with common areas arranged into welcoming "neighborhoods."
All-inclusive care, locator systems for each resident, an in-house medical clinic, and access to various enrichment activities and family support make MorseLife an ideal community to help ease physical and emotional distress.
MorseLife's expert interdisciplinary medical team, led by our on-site Harvard-trained geriatrician, is supported by certified nursing assistants and licensed practical nurses.
As cognitive impairment illness progresses, MorseLife Memory Care offers a single, all-inclusive fee that will not increase with the level of care.
Give MorseLife a call or schedule a visit to learn more about our reputation as a national leader in enlightened memory care.