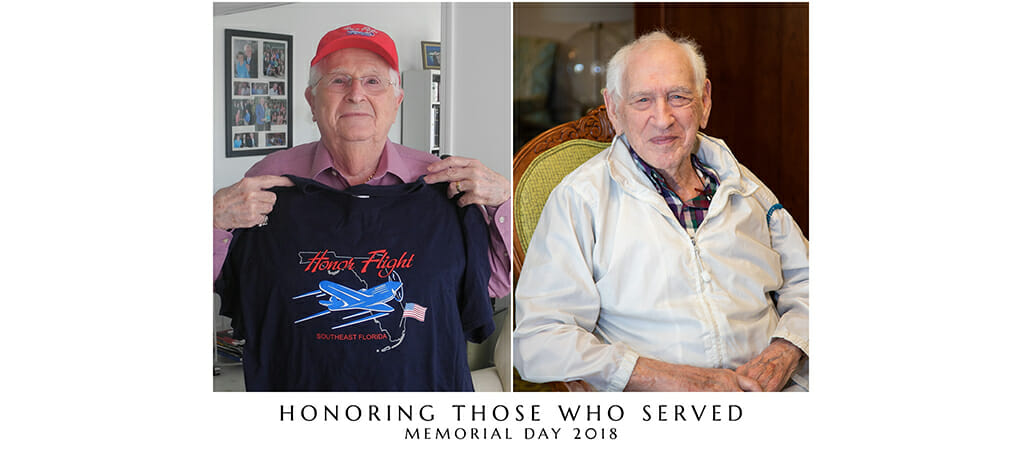 In honor of Memorial Day, May 26, 2018, MorseLife Health System recognizes the heroic actions of our residents who are U.S. veterans. We are inspired and deeply grateful for the bravery and service of these incredible residents and American heroes. Among them, Morris Horowitz, a resident at The Levin Tower and Herbert Wasserman, a resident of The Tradition at MorseLife, are both decorated World War II liberators and officers.
Originally from Brooklyn, Morris Horowitz attended New York State College of Agriculture and had a vision of being a veterinarian. "But it was World War II, and the U.S. Army came calling," Morris said. He rose to Second Lieutenant in his three years of service and fought in the Battle of the Bulge. In 2013, Morris was selected to participate in the Honor Flight of Southeast Florida, as part of an organization that flies veterans at no cost to Washington, D.C. to visit the World War II Memorial, Arlington National Cemetery and the U.S. Marine Corps Memorial (Iwo Jima).  Morris noted that he was touched by others who came up to show their appreciation and thank him for his service.
Herbert Wasserman, born in Germany, came to the U.S. via Kindertransport first spending time in a Jewish orphanage in Chicago before being taken in by an aunt in the Bronx. He was drafted into the U.S. Army shortly after his high school graduation serving in the Combat Engineer Battalion of the 95th Infantry Division, where he received a Silver Star after capturing Nazis at the German Ziegfried line at the French border. After the war, Herbert was a German translator, and among his memories, a Hungarian Jewish woman, who had survived because she was a seamstress to the Nazis, asked if he would take her and others to Bergen Belson. When they arrived, a youngster crossed in front of my jeep and the woman knew him and where his father was. "It was a wonderful miracle and an honor to reunite him with his father – I will never forget that moment!" he noted.
We are proud to remember the bravery of our veterans at The Levin Tower and The Tradition, like Morris and Herbert.
If you are interested in learning more about extraordinary living at The Levin Tower and The Tradition at MorseLife, please call (561) 220-5117.