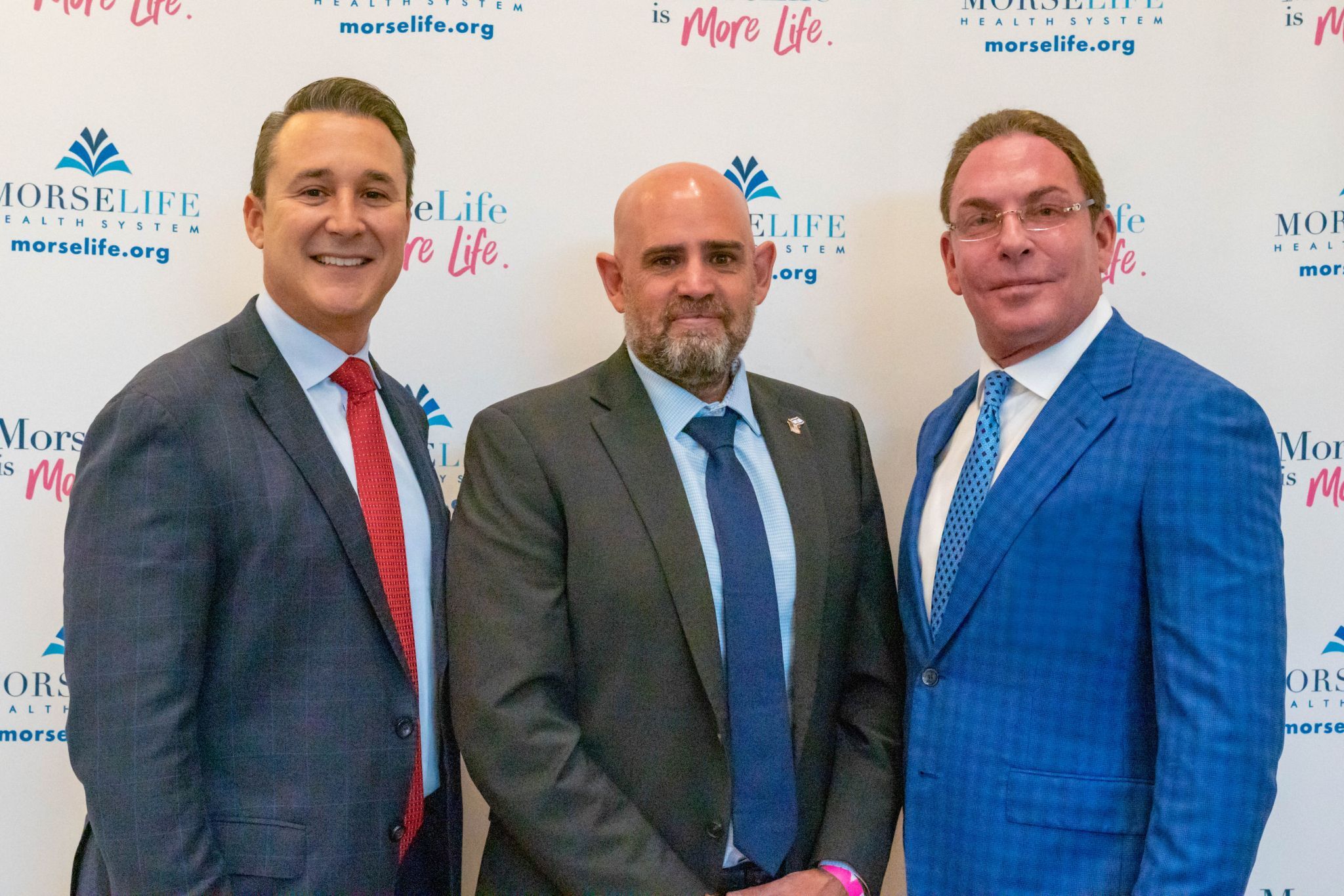 Consul General of Israel Visits MorseLife in Celebration of State of Israel Day
Maor Elbaz-Starinsky, Consul General of Israel to Florida, recently visited MorseLife to discuss Holocaust education initiatives, including MorseLife NEXT GENERATIONS Holocaust Living Learning Experience and MorseLife's Workforce Initiative.
MorseLife residents also spent the special day celebrating State of Israel Day, which included live performances and a special Israeli-inspired lunch and dinner menu. Residents dined on delicious harissa-spiced salmon, chicken shawarma, falafel, vegetable soup, and more.
International and Israeli music, both old and new, filled the Levin Palace Independent Living during live performances by a pop-opera singer with a five-octave range, Michael Peer, and his five-piece band. At Tradition Assisted Living, a hip Shalom Trio performed jazz, folk, and traditional Israeli music. In addition, the dynamic duo Noam Agami and Orel brought Israeli music to residents in MorseLife's long-term and short-term care. Lastly, Resnick residents enjoyed the international Israeli singer, Julietta Daniel.
Other special guests who participated in the day-long celebration and conversation included: Palm Beach County School Board Member Marcia Andrews, Broward County School Board Member Nora Rupert, Senator Rene Garcia, Florida Director Republican Jewish Coalition Matt Bogdanoff, President and CEO of CareerSource Palm Beach Julia Dattolo and Director of Business Services CareerSource Palm Beach Judy Dunn.
MorseLife NEXT GENERATIONS Holocaust Living Learning Experience offers multi-dimensional educational resources to teach the lessons of the Holocaust, providing programming, speakers, and education using NEXT GENERATIONS signature educational model that features Holocaust Survivors and their descendants sharing their impactful, first-hand accounts of their experiences. MorseLife's Workforce initiative provides training courses and career opportunities for western palm beach county residents in clinical and hospitality tracks. These courses include Certified Nursing Assistants, Home Health Aides, Medical Technicians, Chef, Cooks, Servers, and Porters.
Through NOW for Holocaust Survivors, MorseLife provides home care, nutritious meals through Meals-On-Wheels, care management, dental care, medications, essential home repairs, and other crucial services to low-income Survivors and their immediate families.