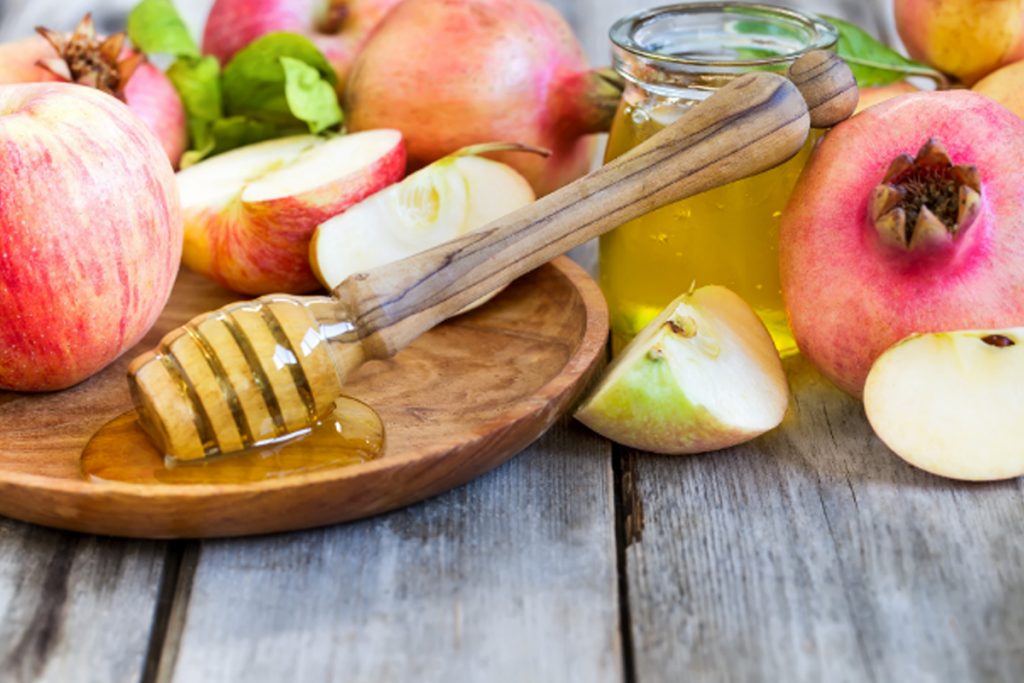 A Healthy Approach to the
High Holiday Season
September is Healthy Aging Month as well as a time of celebration with Rosh Hashanah, the Jewish New Year, falling in late September or early October. Marking the beginning of the High Holy Days, families gather to enjoy large celebratory meals that can often sabotage even the most health conscious.
The good news is that making health a priority and enjoying holiday celebrations do not have to be mutually exclusive. With the right balance, you can prepare a customary holiday meal that is delicious and diet friendly. The Jewish culture offers many healthy, symbolic and meaningful ingredients that can be easily incorporated into traditional recipes such as leeks, pomegranates, carrots, honey, and apples.
Avoiding refined carbohydrates, sugars and high-fat meats in favor of fresh vegetables and fruits paired with lean cuts of meat or fish is a practical and satisfying approach that will promote a healthy and festive High Holiday season.
Our chefs create delicious and nutritious meals throughout the year but we invite you to try this flavorful recipe from the Washington Post as an accompaniment to roasted fish or chicken:
Honeyed Carrot Salad with Squash and Roasted Garlic Vinaigrette
4-6 servings
INGREDIENTS
3 small delicata squash (butternut or acorn squash can be substituted)
1 bunch small carrots
3 or 4 fresh sage leaves
Cloves from 1/2 head garlic (unpeeled)
2 tablespoons fenugreek seeds (may substitute 1 teaspoon ground fenugreek)
2 tablespoons plus 4 tablespoons extra-virgin olive oil
Kosher salt
1/3 cup mild honey
3 large Jonathan apples
1 bunch Chinese long beans (6 ounces; may substitute 8 ounces trimmed haricots verts)
3 small, cooked beets
2 tablespoons champagne vinegar or white wine vinegar
5 ounces baby spinach
2 or 3 sardines packed in olive oil, drained (optional)
Seeds from 1/2 pomegranate, for garnish
DIRECTIONS
Preheat the oven to 375 degrees.
Cut each squash in half lengthwise and discard the seeds and trimmed ends. Turn cut sides down and cut crosswise into 1/2-inch half-moons. Transfer them to the baking sheet, along with the carrots, sage leaves (to taste), garlic and fenugreek seeds. Drizzle with the 2 tablespoons of oil and toss to coat evenly, then season lightly with salt. Drizzle with 1/4 cup of the honey. Roast (middle rack) for 20 minutes.
Meanwhile, core and cut the apples into thin slices; submerge in water or cover with a damp paper towel. Trim the beans and cut into bite-size lengths. Finely chop or shred the beets using the large-holed side of a box grater.
Toss the green beans into the roasted vegetable mixture in the oven, and stir with a fork to incorporate. Drizzle the remaining honey over the mixture. Roast for 5 to 10 minutes, until the carrots and squash look somewhat caramelized.
Remove the garlic from the roasted mixture, then squeeze the cloves into a medium bowl, discarding the skins. Add the remaining 4 tablespoons of oil, the vinegar and a pinch each of salt and pepper; whisk to form an emulsified vinaigrette, making sure the roasted garlic has thoroughly broken down.
Arrange the spinach leaves on a large platter, and drizzle a little of the vinaigrette over them, tossing to coat. Scatter the roasted vegetables, including the roasted fenugreek seeds, evenly over the spinach, then add the sliced apples, shredded beets and sardines, if using. Drizzle with half the remaining dressing.
Garnish with the pomegranate seeds just before serving. Pass the remaining dressing at the table.
*Recipe courtesy of The Washington Post