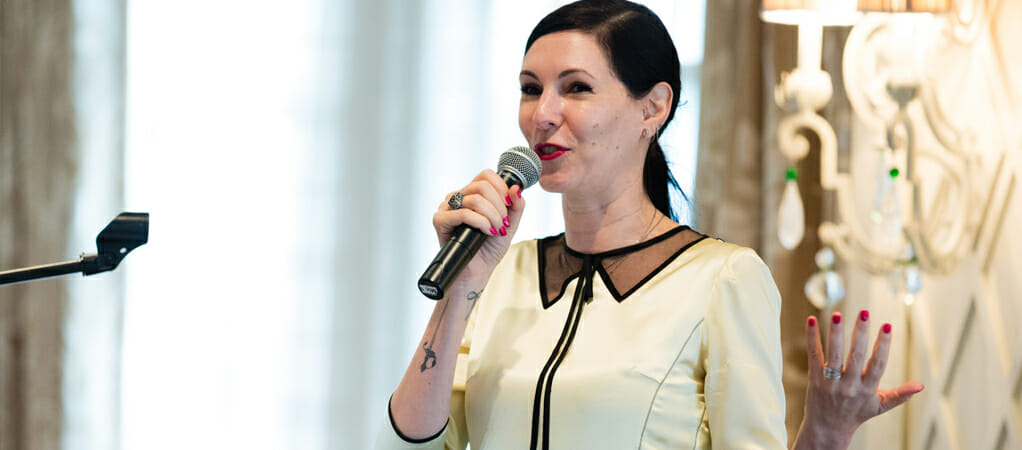 On Friday, January 12, attendees of the Friends of MorseLife Afternoon were in for a treat when the prominent donor luncheon hosted by Fran Kittredge, Barbara Rothschild, and Andrea Stark welcomed Jill Kargman, a comedienne and writer most recently known for her self-inspired Bravo-TV Series "Odd Mom Out," portraying the outrageous lifestyles of mothers who live and raise children in the Upper East Side.
The charming and vivacious Kargman addressed a crowd of more than 150 friends and donors of MorseLife at a private venue in Palm Beach, sharing affectionate anecdotes and humorous stories concerning her family, as well as her career as both a comedienne and writer.
A native New Yorker, Jill Kargman attended Yale University and was quickly immersed into the entertainment and publishing industry, writing for a variety of platforms including television, film, and magazines. Upon starting a family, Kargman began writing novels as a way to spend more time with her children. Having written 11 books thus far, the transition served her well and she is now a New-York Times best-selling author, with her latest work titled "Sprinkle Glitter on my Grave." In addition to writing, Jill has also dabbled in radio and acting, as you may have caught her in the recent film "A Bad Mom's Christmas."
MorseLife is honored to host exceptional performers and artists as we strive to honor our wonderful partners and donors.
For more information about the MorseLife Health System events and its programs and services, call (561) 242-4661 or visit www.morselifefoundation.org.