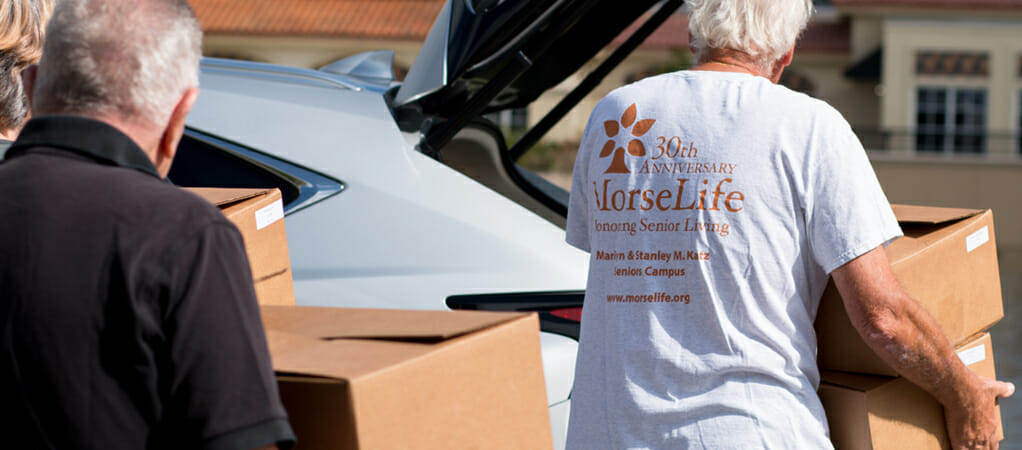 West Palm Beach, FL, March 15, 2017 – Now in its twentieth year, the MorseLife Health System Homebound Mitzvah Program and its volunteers are making a difference on Thursday, April 6 to Jewish frail homebound seniors over Passover who otherwise would not be able to experience its joys and traditions.
According to Linda Sevich, MorseLife's Director of Community Services who has run the program since it was launched, more than 400 volunteers of all ages and from all walks of life prepare Homebound Mitzvah Program packages to deliver to seniors throughout Palm Beach County.  The packages include traditional kosher for Passover meals, matzoh, wine, Haggadah and a DVD of a seder conducted by Rabbi Alan Sherman, Chaplain at MorseLife.
"Just as important, volunteers provide "quality time" to Homebound Mitzvah Program recipients – sitting and talking with them to bring some additional warmth to the delivery," Ms. Sevich said.  "In these past two decades, we have seen generations of volunteers eager to make these very special deliveries – some passing along this caring tradition to their own children and grandchildren."
"The holidays can often be lonely for aging adults, who have seen the passing of loved ones and friends, or live a great distance from their children," said Keith Myers, president/CEO for MorseLife Health System.  "For 20 years, it has been such an honor for us to be able to bring the joys and traditions of Passover to them – and the High Holidays in the fall – it is truly a beautiful mitzvah that we and our volunteers cherish."
Homebound Mitzvah Program volunteers will gather for their deliveries on the MorseLife Health System campus at 4847 Fred Gladstone Drive (off Haverhill Road) in West Palm Beach, and at Temple Torah in Boynton Beach at 8600 Jog Road from 8:30 until 3:30 pm.
Since 1997, the Homebound Mitzvah Program has been reaching out to the area's homebound elders in hopes of diminishing the loneliness and isolation frequently felt over Jewish holidays such as the High Holidays and Passover.  It was founded by Marilyn and Stanley M. Katz, who had nurtured a similar program called Dorot in New York to help isolated seniors, and is made possible through the generosity of community philanthropists and a grant from the Jewish Federation of Palm Beach County.
The holiday of Passover commences on the evening of Monday, April 10, and ends on Tuesday, April 18.
For more information and volunteering or receiving packages, call Linda Sevich at (561) 282-5388.