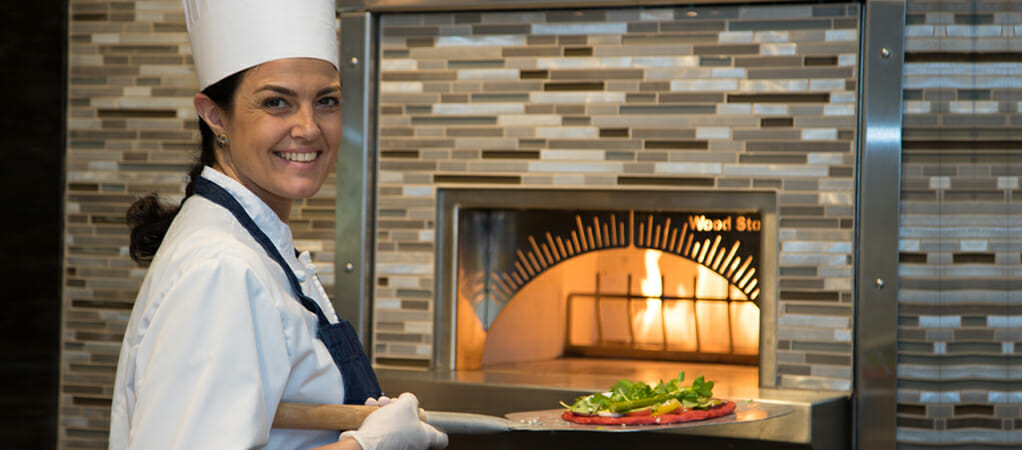 From Le Cordon Bleu in Paris to now creating magnificent recipes for the residents of MorseLife, Valencian Begona Lluch is the head chef at the Stephen and Petra Levin Tower. In honor of American Heart Health month, Chef Begona has a new goal on the horizon: heart-healthy recipes with amazing taste!
Heart-healthy recipes are no small feat, but Chef Begona makes sure the residents at MorseLife get the most out of their dining experience in both taste and nutritional value.
"Rather than load up dishes with salt, which is very unhealthy, I use the highest-quality ingredients that are rich in flavor, and the residents notice the difference," she said. Beet pizza and avocado sandwiches are just two of the exquisite heart-healthy recipes that have become staples of the Stephen and Petra Levin dining room.
Chef Begona has shared the recipe for the heart-healthy "Beet Pizza" so that all may have the opportunity to experience a taste of MorseLife.
BEET PIZZA
Pizza Dough:
–  3/4 oz yeast
– 1 cups water
– 2/3 cups roasted beet puree
– 1/8 cup olive oil
– 2/3 tbs brown sugar
– 2/3 tbs salt
– 1 1/3 pounds flour
Directions:
1. Bloom yeast in a bowl with 3/4 cup of warm water and sugar. In a mixer, add flour, salt, oil, and beets puree. With a dough hook, work the flour on speed 1 to 2 minutes, then add the yeast and remaining water and increase speed to 3 for 5 minutes.
2. Let it rise for 2 hours, cover, and then make into a ball. At this moment, you can freeze or bake it in a pizza oven. At MorseLife, we pre-bake the pizza for 2 min., so once the resident places the order, we just add the toppings and cook it for 7 more minutes.
3. For the beet pizza, we like to use green asparagus, golden and red beets, mini heirloom tomatoes, gorgonzola crumbles and some slices of hard boiled eggs as the toppings.
Residents love the heart-healthy lifestyle MorseLife encourages. We, at MorseLife, are dedicated to the care and betterment of our residents, and the food served at this 5-star establishment is no exception.
If you wish to experience our beet pizza or one of Chef Begona's other creations, you can set up a tour of the Stephen and Petra Levin Tower by calling (561) 701-8386.