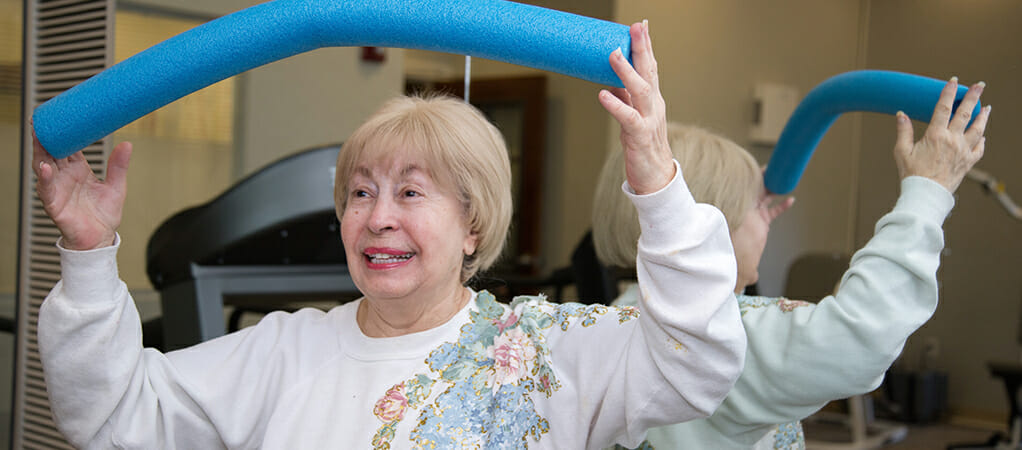 According to the American Heart Association, about 92 million American adults are living with some form of cardiovascular disease or the after-effects of a stroke.
In addition to healthy eating habits and regularly scheduled check-ups, exercise is an integral part of cardiovascular health, especially for adults over the age of 65. At Tradition at MorseLife, we have a variety of fitness classes and one-on-one training sessions that teach and encourage residents to remain healthy and strong.
Studies from the American Heart Association have shown that increased levels of physical activity are associated with reduced incidences of coronary heart disease. We have compiled three simple exercises to jump start a heart-healthy fitness journey.
Take it one step at a time
Whether you're on the beautiful outdoor walking paths or on a treadmill at Tradition at MorseLife's state-of-the-art fitness center, walking for 30-minutes each day awakens your body, promoting blood circulation and giving you the stamina to continue strengthening your heart.
Find your flow
Yoga does wonders for the mind and heart, and can be modified to accommodate all levels of physical fitness. Assisted Living residents of Tradition at MorseLife have the opportunity to partake in Chair Yoga. The low-impact activity lowers blood pressure, which in turn, promotes relaxation, reduces stress and makes blood vessels more elastic, improving heart health.
Make a splash
Swimming is a great aerobic exercise for seniors, giving them the ability to improve heart and lung capacity while remaining gentle on bones and joints. For those who have limited mobility, yet desire to strengthen their heart, swimming allows for the opportunity to build endurance and muscle without the risk of falling. Rain or shine, MorseLife's Assisted Living residents can work on their strokes in the indoor swimming pool at The Tradition.
At MorseLife, the health and wellness of our Assisted Living residents is our top priority and we are proud to provide various fitness opportunities for residents to maintain an active and healthy lifestyle in this new chapter of their life.
If you wish to learn more about the daily exercise and health initiatives taking place in our Assisted Living residences at Tradition at MorseLife, call (561)701-8367 and sign up for a tour today.