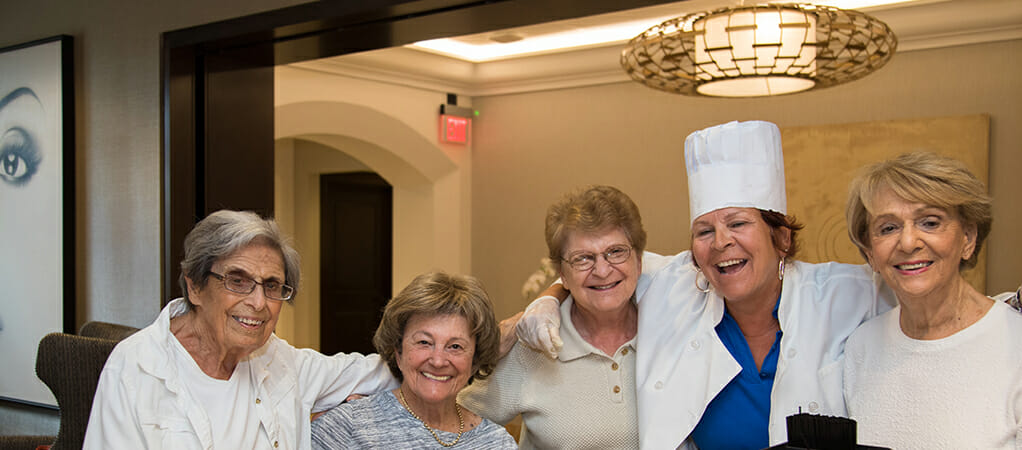 At MorseLife, we know that the more active you are – the longer you live. In fact, research from the National Institute on Aging indicates that community engagement positively impacts social, mental, and physical health in our later years. The study showed that older adults who take part in social activities are happier and live longer. A socially and mentally active lifestyle also can help lower the risk of developing health issues, such as heart disease, stroke, cancer, diabetes and depression.
The Stephen and Petra Levin Tower at MorseLife offers a number of engaging clubs for our residents. They are designed to enhance their overall quality of life by appealing to various areas of interest and personal passions.
Here are a few of the types of clubs offered at The Levin Tower at MorseLife.
For those who share an interest in food and conversation, the ROMEO "Retired Old Men Eating Out" is a perfect fit for guys. Residents who participate gather for a delicious meal, share meaningful stories and connect over common interests.
At MorseLife, we have a deep appreciation for the Jewish faith and offer a variety of religious-focused activities. The Yiddish club is geared for residents who are interested in the continued practice and ongoing preservation of the Yiddish language.
For residents looking to play a low impact sport, the bowling club offers a mix of activity and socializing while other players bowl.
The Levin Tower at MorseLife also offers a film aficionado club, where residents gather in the state-of-the-art theater to watch classic classic independent and foreign films, along with a book study group, and a Veteran's group.
If you are interested in learning more about the enriching activities taking place at The Levin Tower at MorseLife, please call (561) 701-8386.